Wike urges Ambode to resist Tinubu
Rivers State governor, Barrister Nyesom Wike, has urged his Lagos State counterpart, Mr Akinwunmi Ambode, to resist the plan by the National Leader of the All Progressives Congress (APC), Senator Bola Ahmed Tinubu, to scuttle his (Ambode's) second term bid.
Wike, who said godfatherism is inimical to social development, added that Ambode should battle Tinubu with all his political strength and that godfatherism has no place in Rivers State politics and it would never be.
Wike said this during an interview with The Osasu Show, a programme anchored by Osasu Igbinedon on African Independent Television (AIT), at the Government House, Port Harcourt, on Thursday.
When asked to advise Governor Ambode on the escalating rift between him and Tinubu, Wike said "I will advise him to resist him. Godfatherism has never worked in Rivers State, and it will never work."
Wike, who also debunked the speculation that he was planning to emerge as the running mate of one the presidential aspirants on the platform of the Peoples Democratic Party (PDP), said though some PDP presidential aspirants seeking his support offered him the position but he rejected it because he remains committed to the interest of the state.
"There are aspirants who have promised me the position of the vice-president, but I said I will not seek the position; not even in the dream will I seek that position at this point," he said.
"I am a first-term governor and the national chairman of PDP is from my state and the south-south… these are mere allegations. People can carry rumours, but everything I will do, will be in the interest of Rivers State.
"Nobody can use Rivers State as a tool; they did that in the past, but not anymore."
He also wondered why some presidential aspirants were opposed to the choice of hosting the national convention in Port Harcourt, as he added that that only indicated that there were moles of the ruling All Progressives Congress (APC) in the PDP.
"I am shocked that a few presidential aspirants who never opposed Port Harcourt as a venue would begin the sponsorship of media attacks on the venue of the convention, which was not initiated by us," he said.
"When we say that there are moles among the presidential aspirants, this is one of the manifestations. A decision that is collectively taken, is being contested through clandestine sponsorship.
"But if they want, the national convention can be held at Maiduguri, Yola, Sokoto, Jigawa, Kano or any other city. A presidential aspirant that would lose, would lose.
"All the national delegates that will vote at the National Convention will emerge from the different local government areas of the country and from the statutory delegates list. None will be elected in Port Harcourt.
"Therefore, it is uncharitable to attempt to create the impression that hosting it in Port Harcourt will influence the outcome."
By Kola Bola
426 total views, 3 views today
2023: Peter Obi Promises 'New Nigeria' If Elected President
The presidential candidate of the Labour Party (LP), Peter Obi, on Monday, headed to Jigawa State in continuation of his campaign ahead of the February 25 presidential election.

Obi assured a crowd of supporters in Dutse that he and his running mate, Datti Baba-Ahmed remain committed to delivering a "new Nigeria" if voted into power at the polls.

"I assure you that we are committed to a new Nigeria. The Nigeria you see today is Nigeria of insecurity, Nigeria of poverty, Nigeria of no work, Nigeria of no roads, Nigeria of no schools. That is what we want to change.

"For several years, we have been under insecurity, poverty, they closed our borders, poverty, and there is no work. The Nigeria we are offering you is a new Nigeria where there will be security, Nigeria will be united, there will be jobs and I will move Nigeria from consumption to production," Obi said.

The Labour Party flag bearer appealed to Jigawa electorate not to vote next month based on tribe, ethnicity or religion, adding that no tribe, ethnic group or religion buy food cheaper than others.

He also told the people not to accept when anyone tells them it is their turn to become president but insist it is the turn of the people of Nigeria to take back their country.

Thank you Jigawa State for your very Obidient support today. You all made it a huge success. I am grateful! -PO pic.twitter.com/s3QeeHul2p

— Peter Obi (@PeterObi) January 30, 2023

The former Anambra State governor is a main challenger to the candidate of the ruling All Progressives Congress (APC), Bola Tinubu and that of the main opposition party, the Peoples Democratic Party (PDP).
311 total views, 311 views today
2023: I Rescued You From Obasanjo's Onslaught, Tinubu Fires Atiku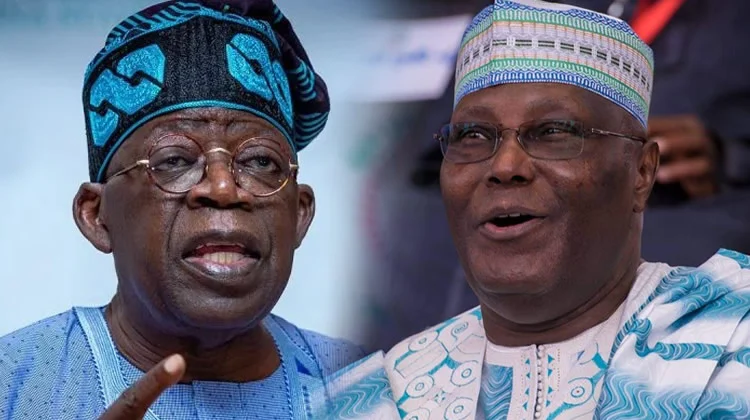 ….Your Continuous Gaffes, Miscues Are Effects Of Your Failing Health, Ex VP Replies Asiwaju

The presidential candidate of the All Progressives Congress (APC), Bola Ahmed Tinubu, has claimed he "rescued" the flagbearer of the Peoples Democratic Party (PDP), Atiku Abubakar from former President Olusegun Obasanjo.

Abubakar, who served as vice-president under Obasanjo, had a running battle with his former principal for years.

Both men reconciled ahead of the 2019 general election.

However, Obasanjo has since thrown his weight behind Peter Obi of the Labour Party (LP) for this year's poll.

Speaking on Monday during a campaign rally in Uyo, the capital of Akwa Ibom, Tinubu said: "I am the one that rescued him from Obasanjo who wanted to roast him like goat meat.

"He ran away to Dubai, and when the election came again, he (Atiku) came for stomach infrastructure. We rehabilitated him in Lagos and gave him a ticket but he wasted it and used it to collect money.

"He faced Obasanjo, faced Buhari and failed. He failed with Jonathan. He failed in all his subjects."

Meanwhile, the camp of former Vice President, Atiku Abubakar said the "constant gaffes" of All Progressives Congress, APC, presidential candidate Bola Tinubu were embarrassing.

Tinubu has made over 20 gaffes publicly since he declared his intention to contest, Atiku's special assistant on public communication Phrank Shaibu indicated on Monday.

A statement he signed said in Tinubu's rally in Akwa Ibom, the APC flagbearer goofed about making Atiku a Senate President though his opponent never contested any legislative election.

Shaibu noted that the former Lagos governor's gaffes and miscues are "effects of his failing health" which present danger to national security.

The aide recalled Tinubu's comment on recruitment of 50 million youths into the Army to solve the unemployment problem, advice to Nigerians to renew their Permanent Voter Cards (PVCs) before they expire, among others.
1,486 total views, 1,102 views today
2023: Any Attempt To Slam Anti-Party Allegations Against Me, G-5 Allies Will Have Consequences, Wike Warns PDP Leaders
Rivers State Governor Nyesom Wike has revealed he would "hit back" the national leadership of the Peoples Democratic Party, PDP, on Tuesday.

The governor, a member of the G5, spoke on Monday at a campaign rally in Etche Local Government Area of the state.

Wike reacted to the alert by the PDP national leadership about some lawyers appearing in court without legal briefs and authorisation.

The PDP said it would not hesitate to take stringent measures on any infractions that are misleading, questionable and fraudulent.

The spokesperson Debo Ologunagba referred to Article 42 of PDP's constitution (as amended in 2017) which places the exclusive responsibility of conducting litigations on the National Legal Adviser.

Ologunagba stated that only the official has the competence to engage external solicitors to handle cases on behalf of the party.

On Monday, Wike warned the PDP leadership that any attempt to slam anti-party allegations against him and allies would have consequences.

"Anti-party begets anti-party. You seen what they did? We took small parties in Rivers to court…APC, SDP.

"The people in Abuja that say they are national went and collude, wrote to our lawyers to hands off the case in plan to kill the cases we filed.


"I have told him to remove them. No problem, the cases will die. Me too, I'll hit them back by tomorrow," the Rivers helmsman hinted
935 total views, 550 views today