What Kind Of Leader Are You?
By Ehi Braimah

Last week, families, friends, associates and well-wishers gathered at the Yar'Adua Centre, Abuja, to celebrate the third anniversary of Naija Times, our online newspaper, which I founded in 2020. It was a great opportunity to re-connect with professional colleagues who used to live and work in Lagos, but have now re-located to Abuja, the Federal Capital Territory (FCT).

I did not need to ask them why Abuja has become their new home; the answer was self-evident: Abuja, with its enchanting boulevards, is beautiful and traffic congestions are not common sights as you would find in Lagos.

Each time I visit Abuja, the flat roads – I struggle to find potholes in the city with a fast-growingexotic real estate in Gusape and Katampe – and the magnificent buildings fascinate me, although some miscreants want to turn the city on its head. They should never be allowed to get away with their evil plans.
Under Nyesom Wike's watch, the minister of the FCT, I am confident Abuja will regain its lost innocence. Life in the Abuja metropolis is quite expensive and, as you would expect, the sprawling conurbation around the city is densely populated by economic migrants.

The primary goal of Naija Times as a media organisation is to contribute to the task of nation-building and it explains why we publish weekly editorials – it is one of the vehicles we are using to reach the goal, despite the difficult operating environment.
The media industry is poorly funded but we are determined to forge ahead and accomplish the different tasks we have set for Naija Times. As we go along, new milestones as they occur would be celebrated.

We are blessed with very distinguished professionals on the Editorial Advisory Board, chaired by Akpandem James. They include media practitioners, university dons, entrepreneurs, public policy analysts, PR experts and economists. I cannot thank them enough for their support, cooperation and selfless service to Naija Times since the founding of the newspaper.
Jahman Anikulapo is our Editorial Director and he is in charge of the newsroom. Akpandem and Jahman have continued to support the Naija Times dream as my partners since July 2020 when started the journey.

How can we make Nigeria a better place? For a very long time, this question has been on my mind, and I keep searching for answers. It was primarily the motivation for setting up Naija Times which rests on three main pillars: building strong institutions, respect for the rule of law and defending the public interest.

These pillars – from all indications – will help us build a better society that will throw up responsible leaders who understand the meaning of service, influence, perseverance, self-confidence, empathy, humility, integrity and self-awareness. Such leaders should be open to change, respect others and possess strong communication and management skills.
The theme of the anniversary was, 'Journalism in the service of society,' which is the slogan of Naija Times. All the speakers explored this theme from different perspectives.

At the anniversary event, we formally presented a book titled, 'For a Better Society.' It is a compilation of editorials published in Naija Times from September 2020 to July 2023.
In his review of the book, Azu Ishiekwene, the Editor-in-Chief of Leadership newspaper, explainedthe importance and value of editorials:

"Newspapers – print and online alike – use the weight of their editorials to achieve any or all of these three objectives:1) influence public opinion, 2) promote critical thinking, and 3) cause people to take action."

I agree with Azu that most of our 115 editorials in three years were aimed at challenging Nigerians to "think critically" and worry about the future of our country. It is okay to discuss our problems but it is better to come up with solutions and take action. The starting point is for Nigerians to hold their leaders accountable.

Nobel laureate Prof Wole Soyinka's recorded goodwill message was amplified on the LED screens in the auditorium. He noted that journalists must probe the state and society because they are not mutually exclusive.

Clearly, the professor of comparative literature believes that the state and society are two sides of the same coin that should co-exist for peace, unity and progress as two strong and inter-dependent institutions. Can the state and society be strategic partners?

"Dealing with the state makes you an obvious target; the state stands to save or ruin the society," the Nobel laureate said. "Sometimes, society itself has to be taken to task rigorously and ruthlessly. We have to ask ourselves, just what kind of people are we?"

"I feel that perhaps that there is not enough attention on the other side of the community; maybe journalists don't quite probe deeply into their behaviour – I'm talking about the people themselves," Prof Soyinka explained.

Consummate journalist and former presidential spokesman, Dr. Reuben Abati, who was our guest speaker, interrogated the intersection between the state and society and the role of journalists in shaping public policy and building strong institutions with respect for the rule of law for a better society.
Leaders are supposed to serve the people, but is that the case in Nigeria?

Unfortunately, the elite conspiracy against Nigeria at all levels has continued to under develop Nigeria for a long time. The major achievement of these "enemies of Nigeria" is that they have turned Nigeria into a huge crime scene.

Perhaps, sociologists can explain why the primitive accumulation of wealth has become prevalent and fashionable among Nigerians – especially politicians and public officers. The contest for wealth, it would appear, is aimed at claiming a misbegotten prize. What is an individual, according to media reports, doing with over 50 properties in Abuja alone?
Why would a public officer, as it has been alleged, earn billions of Naira every month as commission on dollars sourced illegallybut sold to third parties just because the officer has access to privileges?


Are we still asking how or when the rain began to beat us?
What exactly is life's purpose if we are unable to create a humanity that thrives and spreads joy, happiness and success?
It is doubtful if there's any Nigerian who does not want the basic things of life: good roads, constant electricity supply, clean water, affordable housing, efficient public transportation, functional healthcare system and a public education – from primary schools to tertiary institutions – that makes sense.
But what do we have? A broken and dysfunctional society with missed opportunities due to lack of purposeful leadership. The result is that Nigerians and their families are heavily dispossessed and turned into refugees and beggars in their own country.

Those we elected to preside over our affairs must aim to make the lives of Nigerians better. Since we do not have any other country to call our own, we must join hands together and make Nigeria work for us.

We are now paying the price of economic mismanagement of the past that was fueled by greed, abuse of office, bribery and corruption, and dishonesty. With a public debt of over N87 trillion, fixing the badly damaged economy is going to be a marathon – not a sprint.

The times are indeed tough, but President Bola Ahmed Tinubu has asked Nigerians to be patient with his administration. He is confident we can achieve a N1 trillion economy within three years.

In our quest to engage with other relevant stakeholders through advocacy initiatives for a better Nigeria, we established Naija Times Journalism Foundation (NTJF), the non-profit arm of Naija Times.

As we seek purposeful leadership at the national and subnational levels of government, let us also remind ourselves that "change" must begin with us. A cultural transformation that will change the way we "think and behave" is critical and pivotal to the making of a new Nigeria.

Is it the system of government that is the problem or the operators? What needs to change? Do we need a new constitution based on the clamour for re-structuring the country? Should we have regional governments based on the 1963 republican constitution?

Instead of protecting tribes and where we come from, my view is that it is better to embrace national ethos to achieve one objective: a united and prosperous Nigeria. It is better to have "State of Residence" instead of "State of Origin."

When we "Think Nigeria First" in everything that we do, we would be on the path to greatness because what we have is a country, not a nation. It is a campaign we intend to launch next year under the auspices of Naija Times Journalism Foundation (NTJF).

Parents, teachers and religious leaders also have important roles to play in reclaiming our lost values. In our homes, work places, and communities, there are leaders but a society will always get the leader it deserves.

We are all leaders in our own right. What kind of leader are you? Every morning, look at yourself in the mirror and say to yourself: "I will lead well in any role I find myself by being honest and authentic, and I will play my part for Nigeria to become a great country."

A leader is the conscience of society. A good leader leads by example and offers selfless service. Nigeria needs visionary leaders with these qualities, and they should be ready to make a difference.

Are you ready? The clock is ticking.

Braimah is a global public relations and marketing strategist. He is also the publisher/editor-in-chief of Naija Times (https://ntm.ng) and Lagos Post (https://lagospost.ng), and can be reached via hello@neomedia.com.ng.
*Most of the materials used in this article were excerpted from my message at the third anniversary of Naija Times event in Abuja last week.

Edo 2024: Obaseki's Ingratitude Now Seeking Laundry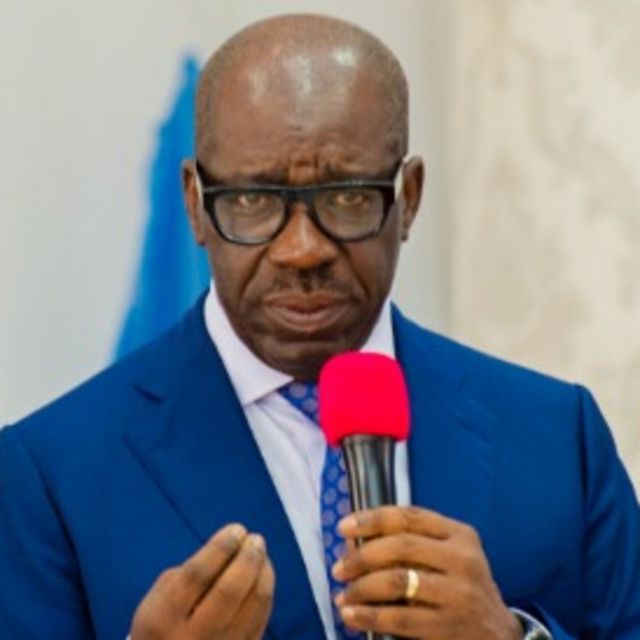 By Kassim Afegbua

Experience has a tendency to haunt their victims, and even render undue hardship to others in transfered aggression. When people behave in a very unsavoury manner to their benefactors, the rebound effect rubs off on others in a most regretful way, allowing reminiscences of old to perforate the reality of the present. What Governor Obaseki did to Senator Adams Oshiomhole, has taught the latter bitter leadership lessons such that circumspection, crystal gazing and double reflections have continued to dominate Oshiomole's thought process as regards those seeking the governorship seat of Edo state. Bad behaviour of one is like that oil that soils the fingers of life, cascadingly spreading beyond known boundaries, and leaving traces of regret and "had I known" on the lips of its victim. Even as Senator Oshiomhole, tries hard to rid himself of the tempers and ridicule that Governor Obaseki and deputy foisted on him, he continues to see the vestiges of that bad behaviour as a trap that must be avoided in the future. There is no art to see the mind's construction in the face; so says the old rhyme, but the behaviour of man is a predatory reference when trajectories are being chronicled. This is why Senator Oshiomhole, as leader of the APC in Edo state, is morbidly cautious about who to throw his weight behind, in the current contest for Edo Government House.

Anybody who survived Governor Obaseki's invidious game needs to thank God for remaining afloat without being mauled down by a stroke, as a consequence of its rude shock. Not only did Governor Obaseki fight for the removal of Comrade Adams Oshiomhole as chairman of the ruling party, he also blackmailed Oshiomole to a crescendo of contradiction. Oshiomhole's God is truly alive and now watching the two actors, Godwin and Phillip, who combined to ridicule the former Labour Leader, go after each other's throat. This should be a stark reminder to everyone that life's positions are akin to a revolving door. Obaseki is winding down now, and he's being confronted with accusations of poor performance occasioned by indecent behaviour, needless political squabbles, intemperate anger, noisy claims of bogus statistics, selective amnesia, importation of "foreigners" to run Edo economy, and a shameless attempt to balkanise the Benin Monarchy over artefacts that he knows nothing about. Now, at the twilight of his administration which has demarketed the state for the wrong reasons, at home and abroad, he suddenly remembers Senator Oshiomhole as a citizen deserving of an award. How disingenuous! A man he had hitherto rained all manner of allegations on, and was telling Edo people that Oshiomole wanted him to be making returns from Edo State's money, has suddenly become the attractive bride to be lauded twice within a spate of two months; to be welcome to grace State Programs, during which Governor Obaseki declared that Senator Oshiomhole made him Governor. Hellooo oooo!!. Is someone suddenly awake from slumber? I am yet to fathom the motive behind Governor Obaseki's recent romance. I pray Senator Oshiomhole does not fall for Obaseki's political knavery and duplicity, not a second time.

While I cannot choose Senator Oshiomhole's friends for him, I can caution him to be wary of those who speak tongue-in-cheek, conveying the symptoms of love in the morning, only to drive poison down his throat at night; those who are known to be bad people. Senator Oshiomhole must watch his back, and very well too. Governor Obaseki's smile and pretentious laughter shrouded in hatred, blackmail, and his pathological double-standard. What has suddenly happened to the paradigm that made him heap all those insults on Oshiomhole, that made him present Oshiomole as one who sought to feast on Edo people's collective till, with him the Governor, bravely wrestling power from this adversary on their behalf. Was it the same mouth that Governor Obaseki used to insult Senator Oshiomhole that he now uses to praise Oshiomole, to the point of saying that the former Governor made him Governor of Edo state? Has Governor Obaseki forgotten that he once said he had no godfather, and that he would not play the role of a godfather? For that reason, I guess he only played "BigDaddy" in the last Local Government election: The real elections were concluded in the field, but the losers went to the Government House in Benin to collect Certificates of Return, while the winners were left to agonise with dismissive verbiage. The victory of the current apparent winners was forced under Obaseki's auspices. Till today, no corrective measure has been taken. Losers are in office, while winners are helplessly and awfully left in the cold. That is coming from a man considered to be a technocrat; grinding people's emotions with high-handedness, heartlessness and sheer wickedness. How does one reconcile such situations? When leaders double-speak, it removes the fibre of morality and makes them little things before the discerning.

Now that Edo 2024 race has begun, Governor Obaseki's ingratitude and bad behaviour has kept Senator Oshiomhole pussilanimous, while seeking God's face and His voice in his choice of who flies the party's flag. There are persons who share the same characteristics as Governor Obaseki; people who pretend to love Oshiomhole more than himself, who have already positioned themselves; we know them. They speak about loyalty as though the word emanated from their cocoon. That was Godwin Obaseki's pastime between 2008 and 2016 when he was the Economic Adviser to Comrade Adams Oshiomhole. He carried Oshiomole's bag when they were traveling on several occasions, woke up in the mornings at Oshiomhole's door-step, and was arguably the last man to shut Oshiomole's door at night; but as soon as he won the election on 28 September, 2016, Oshiomhole was his first casualty. The heart of man is indeed deeply wicked: after the campaigns and election and results had been declared but the baton had not been handed over, they both travelled outside Nigeria for a short rest to recover. Unbeknownst to Oshiomole, Obaseki before leaving left instructions with the then Accountant General not to honour payments and approvals from Oshiomhole's table going forward. Civil servants being respecters of the In-Coming, the Accountant General played the ostrich from then on while Oshiomhole's approvals were pouring in but remained unattended. That was just the beginning. At Oshiomhole's present age, his muscles won't be able to withstand another stab in the back. He has to be circumspect and wary of the ides of March. There are a lot of Brutuses preying on him, but the thought of Godwin Obaseki's indecent behaviour scares his innermost recesses. Obaseki's latest olive branch compounds the scenario. It shows that it was all a plot. Nothing was inadvertent. Obaseki did all that he did deliberately. It was a tactic that fitted in his game plan. And he indeed scored a goal even at the price of being called infamous and a betrayer.

Governor Obaseki picked holes in the word "godfather" making it sound like an abominable word that he can never be associated with; but one year into the end of his tenure, just like yesterday, he has become the real godfather to his numerous footsoldiers and political gadflies. He's even telling his deputy what the deputy can do and must not do, assuming the author of a self-made constitution that bars Phillip Shuaibu's inalienable right. It may be said that it serves Phillip right, following his indecent behaviour like his boss', but the fact remains that Governor Obaseki cannot take away the right of anyone as guaranteed by the constitution. Now, Phillip Shuaibu has dared his boss, and declared his ambition to run. Welcome to Edo state's version of A Game of Thrones and Thorns. Get yourselves some popcorn, fasten your seat-belt, put a drink beside you, and off we go to the cruising altitude of comedy, tragedy and political tragi-comedy. It promises to be a blockbuster kind of drama, unveiling the protagonists and antagonists, locking horns in what promises to be an exciting drudgery. Now that Obaseki's tenure is coming to an end, with low ratings, no legacy projects, and with his intemperate behaviour towards Senator Oshiomhole staring at him in the mirror, he's mortally afraid of what Shuaibu's effort will bring forth before his table of authority. And the circus continues, even as Senator Oshiomhole laughs away the beauty of the soundbites. With his seat belt fastened, the thought of his successor's bad behaviour still hits at his mental awareness. It is a behaviour that will adversely affect others, no matter how well-intentioned they may be.

Power is an opium, an intoxicant that makes men blind to their real intention. Power and its addictive properties easily make men see their tenured positions as an endless voyages; as a sweet sail which end will never come. When they start snoring away their tenure, and the last year knocks with feverish pitch, the entire years scare them away especially when their performance cannot be fully celebrated. If Obaseki's deputy can run down their own administration, as lacking in sounds and bites, what better interrogation can be more than this authorial verdict in a piece of essay. Rather than be Obaseki's running mate in the shared vision to deliver on the promises made to Edo people, Shuaibu now uses his own mouth to run down their leadership. Obaseki and Phillip have taken their script to a ridiculous level, showing their cat and mouse skills. That is what happens when there is no sincerity of purpose, when mutual suspicion dominates actions, and when plans after plans are footed as stumbling blocks in the way of the actors. Are they Finishing well as their latest slogan declaims; erosion is still rife in Benin City. Finishing well, yet a library was demolished, to give way to the business of Shoprite's buying and selling. Yes, a place for knowledge acquisition and research for the tomorrow of Edo state was demolished for Shoprite chains of business. How well is this finishing? Or is it their fight they are promising to finish well. Anyway, what do we expect when the Governor has broken our vertebrae and left us nearly sprawling on the floor unable to be erect. When you affect the psyche of the average Edo mind, the mind of an average Edo mind will get to a psychic level of hollow ritual, loud noise and no content. May we never experience another Godwin Obaseki again. A second affliction will be one too many. Oshiomhole's taciturn approach will eventually exude much wisdom. May God bless Oshiomhole, our dear state and us all.

Rejoinder: Powerful Lagos, Powerless Osun State
By Mr Adedayo Oshodi, SAN

The article by one Lasisi Olagunju on the recent nomination of 21 justices for appointment to the Supreme Court should disturb any objective and well meaning NIgerian. It is calculated at escalating our fault lines. It is targeted at dividing the Nigerian judiciary along State lines. It is calculated at inciting Nigerians against Lagosians. It's a hate piece. We appear not to be fed up with the damage wrecked to our nation by our perennial ethnic and religion divisions. As a corollary, we appear committed to a race to the bottom, when appointments to our apex court is reduced to the clout of the respective states of origin of the justices of the Court of Appeal without any consideration for merit and/or seniority at the bench.

Truth be told, this has nothing to do with pedigree of the two erudite and respected Honourable justices of the Court of Appeal: Hon. Justice Habeeb Adewale Abiru and Justice Olubunmi Oyewole. Both of them are worthy and deserving of a seat at the Supreme Court. Just ask about them. Thus, it is bad enough that the judicial establishment appears to be heading towards one of them instead of both. We need and deserve both of them, in my opinion. On merit. It is even worse and unfair to both of them to reduce their hard work & careers to their states of origin with the despicable consequence of tainting the elevation of any of them by ascribing same to their origin as against their hard work and brilliance. It is a disservice to the erudite justices.


First, the author politically weaponized the appointments of nominees to the Supreme Court by referring to them as the "electors of our future presidents, governors and lawmakers." Haba!! We all know how and where presidents, governors and lawmakers are elected. It is mischievous to interchange adjudication of electoral disputes to election. It is fraudulent.

Secondly, the writer totally disregarded seniority at the bar and bench, which is a fundamental consideration in the legal profession. Neither did he pay any attention or give consideration to when the two justices were appointed to the bench or the quality of their judgements.

A simple google search would have assisted Mr. Lasisi Olagunju to write a balanced article that states the criteria set out by law as well as state the facts that supports or goes against any of justice's nomination. The fact remains that Justice Abiru was Justice Oyewole's senior at the then University of Ife (now Obafemi Awolowo University). He was also his senior at the bar. Most importantly, Hon. Justice Abiru was appointed to the Court of Appeal in 2012, whilst Hon. Justice Oyewole was appointed in 2014. Would it be fair for Justice Abiru to be skipped over because he is from Lagos State ? Or for his junior in the heir-achy to become his senior?

Yes, the extant law requires fulfillment of federal character principle so appointments into national institutions are not lopsided towards a particularly region. The balancing is based on the 6 geo-political zones(NW,NE, NC, SW, SE, SS) not based on states as suggested by Mr. Lasisi Olagunju.

The facts in the article are wrong. Based on my findings, there used to be pairs and it was Lagos and Ogun, Oyo and Osun and Ekiti and Ondo. But the pairings were jettisoned under Hon. Justice Aloma Mukhtar tenure as Chief Justice of Nigeria and it became zones. Things changed further when the Supreme Court was tasked to appoint its full complement of 21 Justices. South West got a fourth slot instead of 3, which was given to Ogunwumiju, JSC.

Assuming, without conceding, that we are even going by pairings referred to by Mr. Olagunju, the Oyo and Osun slot is occupied by the current Chief Justice of Nigeria, Justice Kayode Ariwoola.

The fact is that the slot available was vacated by a Lagosian in the person of Hon. Justice Olabode Rhodes-Vivour, who retired on 22nd March, 2021 after he was appointed on 16th September, 2010. He replaced another Lagosian, Justice George Adesola Oguntade, who retired on 10th May,2010. Now, Lagos is the commercial nerve Centre of Nigeria, where 90% Nigeria's VAT is generated. It's a mini Nigeria that accommodates everyone. Arguably, Hon. Justice Oyewole is a Lagosian , though not an indigene, as he was not only resident in Lagos but was appointed as a judge of the Lagos High Court. Essentially, you have two Lagos jurists to a large extent. So, why this division where is there is none?

Lasisi Olagunji should do right by these two fine jurists by not diminishing their ascendance to the Supreme Court by crediting same to power play as against merit and the time honored tradition of the Nigerian judiciary of seniority.



Why I Want To Be Edo Governor
By Kassim Afegbua

I returned from Benin City yesterday with a huge feeling of nostalgia, reminiscencing on the fond memories of events that dominated my engagements in 2016, after a fulfilling service as Commissioner for Information in the state. I looked back with nostalgia, reflecting on the time when Senator Adams Oshiomhole was in the saddle in the state. Recalled his fierce quest to see a new Edo, his vehement fear of failure, and his deep level of commitment to ensure that he left footprints of achievements across the state. His red roof revolution in the schools then was cheering news to many Edolites, his health sector reforms was another template of achievements coupled with the huge infrastructure ramp up in roads, and effective flood control. Adams Oshiomhole's well-intentioned administration was the denouement of recovering the state from inherited rots that dominated the state.

In 2008, Adams Oshiomhole was in a hurry to rewrite the ugly state of affairs in the state, by the time he would be leaving. Indeed he was satisfied as he bade farewell to the number one seat, that he had made considerable impact to lift the state from its infrastructural doldrums to olympian celebration of lofty achievements, which the people have not forgotten till date. On Saturday, 4 November, was another rehash of those good years: Adams Oshiomhole sauntered into the arena for the celebration of life of the mother- In-law of the sports maestro, Mike Itemuagbor, in Benin City. As Oshiomhole entered the arena, the shout of "Oshio" rented the air as he made triumphant gestures to the audience.

Edo people have a way of appreciating those who led them well, and Adams Oshiomhole is one former Governor the people cannot forget in a hurry. His huge achievements during his eight-years stint renew themselves everyday.

Edo State is presently in a state of quandary, enabled by a government that has paid little attention to important details. Edo state is flustered by a concatenation of developmental issues begging for attention. The intra-city roads wear the soreful eyeglasses of rotten underbelly. Potholes dot the streets in Benin like oasis of water in the desert. Benin City GRA is an embarrassment to any rational mind. With many big houses, many roads have been washed off by agents of denudation. The rain had just stopped when I arrived Benin City, and I saw the drugerous effort of my driver as he tried to navigate the pools of water and run-offs that make the roads almost impassable. The once beautiful GRA is a far cry of its old self. As we chatted on our way , I couldn't help asking questions, in a bid to reconcile what I have read on paper from Obaseki's media rottweilers and the reality I saw on ground. I was completely nonplussed.

When I see the Governor, Godwin Obaseki, on Television trying to undercut the Federal Government for neglecting Federal Givernment roads, I see the height of hypocrisy at play, using Federal roads to take the people's attention away from the mess that his township roads have become. Such administrative rot, wickedness and deliberate complacency and neglect of critical infrastructure has been the normative order in a government that is high on profligacy and low on performance. In Edo state, it has become a game of altercation between the government and the people; and the ugly sights of the township roads are quite discomforting.

Obaseki's government continues its tales by moonlight; tales of backward integration and under-performance, tales of crass abandonment of critical infrastructure, and tales of hypocrisy promoted to the pinnacle of greed and avarice, and functionally fueled by gossip, hate, suspicion and subterfuge. I took time out to travel round the state and I saw how deplorable some of Oshiomhole's projects have become for lack of maintenance by Obaseki, his successor. Each time I watch Governor Obaseki talk about the Federal Government's deplorable roads around the state, I laugh at the folly of a man whose polluted sense of hypocrisy and selective amnesia has doubled in recent times.

He needs to be referred to the Bible passage that addresses his malady. Whatever is in his own eyes cannot be smaller than tree trunks. Aside from turn-key projects which were meant to paint existing buildings of government offices, I didn't see any tangible, legacy projects to speak of in relation to the huge revenue of the state; and federal allocations have increased far beyond what obtained during Adams Oshiomhole's time. Bail-out funds have also been poured into the coffers of the state in recent times: palliatives from the Federal Government have been encouraging, refunds for federal roads that were built and renovated by Adams Oshiomhole also came into the state in billions since Obaseki took over. With all these inflows, the quantum of work done is alarmingly low and not commensurate. Even those with established low IQ ask questions. The main question is, where is Governor Obaseki putting the money?

As it is, Edo State is balkanised and there is an urgent need to build a state cohesion and enhance the usual spirit of camaraderie that formerly bound the Edos together. We are a people of shared commitment and values, with our cultural heritage that defines our identity. Governor Obaseki has blighted that and the state is now in disarray from different perspectives. The Benin Royalty, which used to be the strength of our communal linkages, is "suffering" in the hands of Governor Obaseki; no thanks to the Governor's deliberate effort to hurt its historical ingenuity, by trying to create other Kingdoms in a most abominable manner.

When a Governor doesn't connect with the people, the effect is the development of inferior complexes in form of conquistadorial mentality, that assesses every esteemed personality as a threat. The state has lost Chief Anenih, General Ogbemudia, Alhaji Inu-Umoru, Chief Uyigue, and quite a number of political bigwigs who made Edo's politics thick, and have rallying points in each Senatorial District. The vacuums created by the demise of these political heavy weights have not been filled and attempts by Senator Adams Oshiomhole and Chief Lucky Igbinedion to patch up those vacuums have been quashed by a Governor that wants to be the singular and ultimate rallying point. For that reason, Edo is always in the news for the wrong reasons. News of boiling point political temperature, news of supplanting Local Governments with halleluyah boys; instead of the right persons that were voted for, news of poor development and news of insecurity across the state. For how long are we going to be rotating around the same axis and expect different results? The need for a fresh thinking is apposite.

Driven by the urge to offer a new paradigm from what obtains and further buoyed by the desire to ameliorate the pain caused my people by the failure of the present occupants of the Osadebe Avenue, and the despair that now dictates to my people because of the crass hypocrisy that has become the second nature of government in Edo state, I have elected to join the race for the governorship position of the state. Let it be known that unlike some of those being promoted by the incumbent Governor, I have a rich knowledge of the state in terms of demographics and geography, and can help to harness the potentials that the state can boast of. Plus, I have the capacity, courage and boldness and grit to take objective decisions that would add value to the wellbeing of citizens of the state and meet the peoples needs.

Also, I have been a champion of good governance in the state, so, when given the opportunity to serve, it will offer me platform to translate my vision and mission for the totality of our people and will have to practice what I preach. I am confident that my understanding of the potentials across the state will help me tap into and explore the opportunities within and even outside our state, for the overall good of our people. I am known for having the capacity to unite all the forces and factors in the state to create the nexus that would galvanise the people to promote a sense of homogeneity in our dealings and engagements. I want to bring back our lost glory in the past seven years in a manner that would elicit citizens participation in governance and enhance our productivity.

We will revive and sustain previous effort of Red Roof Revolution to reclaim our schools, and boost our education sector in a most progressive way in line with modern global benchmarks.

Our present infrastructural decay brought on us by a tactless government with no discernible roadmap was headed for the poor service delivery that we presently witness ab- initio. Bringing on board "strangers" who do not have a grasp of the state to succeed the present government is a sine qua non for another round of ineffectual leadership and that will be most unwise. A leadership that promotes ethnic chauvinism, that promotes greed and self aggrandizement, and one that has shown a marked appetite for primitive acquisition of the most bizarre form, cannot birth anything good for the future. Briefcase business scavengers have taken over Edo state in such whimsical manner, that citizens struggle to be in the know of what transpires in the state. Beware of who is talking to you now, my dear people of Edo State; even those who can't even successfully run a home, are already criss-crossing the state in search of endorsement. Edo state will not travel that familiar route again; a route that foisted a leadership that never cared for our wellbeing or help to grow our collective destiny.

The state needs a young, vibrant, result-driven leadership that can connect to the aged and the youths, and help drive the wheel of progress to build a home where peace, love and affection radiates in our heart of hearts and prosperity is assured for all. We must insist on building our state in a manner that furthers our collective aspirations and yearnings irrespective of our political and ideological persuasions. The Edo spirit in us must be consciously nurtured to enrich our sense of oneness and unity of purpose. The task to building Edo of our dream with respect for our traditional institutions and royalties is what will help us to reposition our thought processes for a better Edo state. This is no doubt a huge assignment which I am prepared to undertake in order to reclaim Edo state, and save my fatherland; the heartbeat of the nation.