We Never Proposed Creation Of 20 New States -Senate
The Senate has debunked reports that the lawmakers have proposed the creation of 20 more states, saying the upper chamber was "grossly" misrepresented."

Senate spokesman Ajibola Basiru in a statement on Sunday said the report is a misunderstanding of the decision reached by the Senate Committee on the Review of the 1999 constitution.

"The report is a gross misrepresentation of the decision of the committee on the request for creation of more states," the statement maintained.

"Far from recommending creation of any state, the Senate Committee, while acknowledging receipts of several Bills proposing creation of new states, decided that it is not in a position to recommend or proposed the creation of any state unless there is compliance with the provisions of section 8 of the 1999 Constitution of the Federal Republic as amended."

According to the lawmaker representing Osun Central, Section 8 of the Nigerian Constitution clearly stipulates the procedures for the creation of additional states.

"In view of the above, the Senate Committee is not in a position to propose creation of any state as reported," he added.

"Rather the committee decided to refer the requests received to Independent National Electoral Commission to ensure compliance with section 8 of the Constitution by conducting referendum in the areas if the requests supported by at least two-thirds majority of members (representing the area demanding the creation of the new State) in the Senate, the House of Representatives and the House of Assembly in the area."

Several reports had suggested that the Senate told the Independent National Electoral Commission (INEC) to conduct a referendum for the creation of the new states.

The Senate purportedly reached the decision to respect "the genuine desire of Nigerians."

Some of the states which the Senate purportedly proposed their creation are ITAI State from Akwa Ibom; State status for the FCT; Katagum State from Bauchi; Okura State from Kogi East; Adada State from Enugu; Gurara State from Kaduna South; and Ijebu State from Ogun.

Others are Ibadan State from Oyo; Tiga State from Kano; Ghari State from Kano; Amana State from Adamawa; Gongola State from Adamawa; Mambilla State from Taraba;; Savannah State from Borno; Okun state from Kogi; Etiti State from the South East Zone; Orashi State from Imo and Anambra; Njaba from the present Imo.

The rest were said to be: Aba State from Abia; Anioma State from Delta; Torogbene and Oil River, from Bayelsa Delta and Rivers; Bayajida State from parts of Katsina, Jigawa, and Zamfara.
1,009 total views, 3 views today
'How Fake Zenith Bank Agent Stole N141,000 From My Account', Hairstylist Narrates
Mary Ajah, a hairstylist in Osun State, has narrated how a fraudster posing as a Zenith Bank representative defrauded her of N141,000.
The hairstylist said the scammer succeeded in his scheme because she was desperate to resolve a problem she had with her current bank account.
She said she chatted with the bank to find out what she could do to receive alerts via text messages and her email address but she was told to reach out to them via their social media handles or email addresses as they were not receiving calls at the time.
According to Ajah, this problem of not receiving notifications from her account had been going on since October, immediately after creating a current bank account.
"I sent an email to Zenith Bank, but they didn't respond on time, so I chatted with them via Twitter. I got a number from the Twitter account and was asked to chat with them on WhatsApp," Ajah said.
"I didn't realise on time that the number I received was from an impostor. While we were chatting, the scammer said he wanted to help me link up my savings account to my current account so I could start getting notifications.
"Then I got a number from Twitter to chat with on WhatsApp, but I didn't realise that it wasn't their number.
"He requested my card details, which I gave him. But immediately after that, I noticed that they withdrew N141,000. It was then that I had to tell my account officer what had happened."
Ajah stated that she reached out to the bank after the ugly incident occurred but nothing could be done to salvage the situation.
Credit: fijn
2,246 total views, 2,246 views today
BBTitans: HoH Blue Aiva And Partner Save Yemi's Pair As Khosi, Miracle, 7 Others Face Possible Eviction
Housemates in the Big Brother Titans reality show have nominated each other for possible eviction on Sunday.

Recall that Blue Aiva and Kanaga Jnr emerged Head of House on Monday night.

This followed the eviction of Sandra and Theo during the live show on Sunday.

At the end of the nomination process on Monday, BlaqLeng, KhosiCle, ThabaNa, YeLisa and JayKay.

However the HOH, KanAiva saved Yelisa and replaced with MaYa.

Here is how housemates nominated:

YeLisa- JayKay and BlaqLeng

JayKay- JenniLi and ThabaNa

Royals -KhosiCle and ThabaNa

KhosiCle -Royals and BlaqLeng

JuVonne – KhosiCle and BlaqLeng

JenniLi -YeLisa and KhosiCle

JuOvla -BlaqLeng and ThabaNa

BlaqLeng -KhosiCle and JuVonne

MaYa -ThabaNa and BlaqLeng

ThabaNa -JayKay and YeLisa

KanAiva -JayKay and KhosiCle
2,260 total views, 1,855 views today
2023: I Rescued You From Obasanjo's Onslaught, Tinubu Fires Atiku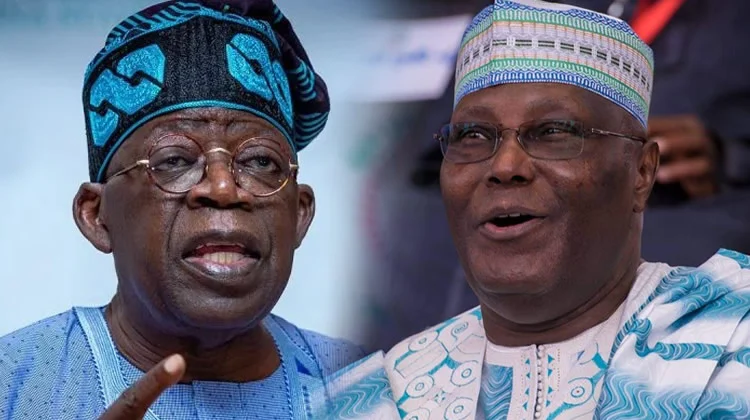 ….Your Continuous Gaffes, Miscues Are Effects Of Your Failing Health, Ex VP Replies Asiwaju

The presidential candidate of the All Progressives Congress (APC), Bola Ahmed Tinubu, has claimed he "rescued" the flagbearer of the Peoples Democratic Party (PDP), Atiku Abubakar from former President Olusegun Obasanjo.

Abubakar, who served as vice-president under Obasanjo, had a running battle with his former principal for years.

Both men reconciled ahead of the 2019 general election.

However, Obasanjo has since thrown his weight behind Peter Obi of the Labour Party (LP) for this year's poll.

Speaking on Monday during a campaign rally in Uyo, the capital of Akwa Ibom, Tinubu said: "I am the one that rescued him from Obasanjo who wanted to roast him like goat meat.

"He ran away to Dubai, and when the election came again, he (Atiku) came for stomach infrastructure. We rehabilitated him in Lagos and gave him a ticket but he wasted it and used it to collect money.

"He faced Obasanjo, faced Buhari and failed. He failed with Jonathan. He failed in all his subjects."

Meanwhile, the camp of former Vice President, Atiku Abubakar said the "constant gaffes" of All Progressives Congress, APC, presidential candidate Bola Tinubu were embarrassing.

Tinubu has made over 20 gaffes publicly since he declared his intention to contest, Atiku's special assistant on public communication Phrank Shaibu indicated on Monday.

A statement he signed said in Tinubu's rally in Akwa Ibom, the APC flagbearer goofed about making Atiku a Senate President though his opponent never contested any legislative election.

Shaibu noted that the former Lagos governor's gaffes and miscues are "effects of his failing health" which present danger to national security.

The aide recalled Tinubu's comment on recruitment of 50 million youths into the Army to solve the unemployment problem, advice to Nigerians to renew their Permanent Voter Cards (PVCs) before they expire, among others.
1,638 total views, 1,254 views today