The Man, Hope Uzodimma: Why He Deserves Second Term As Imo Gov
Hope Odidika Uzodimma is a prominent Nigerian politician who represents different things to different people. He symbolizes trust and loyalty to friends and associates, and hope and succour to the downtrodden. At work, he is an embodiment of capacity and efficiency to his staff, and at home, he is the epitome of love and affection to his family.

As a man with hallowed grace and a Midas touch, his most striking quality has been his uncommon ability to think globally while acting locally with exceptional street intelligence and his determination to bring positive change to Imo State. Since Hope Uzodimma came into office as Imo State Governor in the last four years, he has been an embodiment of excellence, hard work and patriotism.

Born on 12 December 1958 in Omuma to an Igbo Catholic family; his father Chief Michael Uzodimma held the chieftaincy title of Igwe of Ozuh Omuma and his mother was Ezinne Rose Uzodimma (née Nneoha), he is a kinsman of the Okoro family of Etiti-Omuma. Uzodinma is a devout Catholic, and he is married to Chioma Uzodimma with seven children.

Uzodimma attended Mgbidi Secondary School in Omumu, Oru West, Imo State, Nigeria, for his secondary education.

He enrolled in college in 1978 and studied international studies there until 1982 when he received his bachelor's degree. He had already earned an advanced diploma in transport studies before this.

Uzodimma graduated from the University of Nigeria Nsukka (UNN) with a master's degree in human relations. He also graduated from the University of London with a degree in political science.

He holds a Diploma in Maritime Management Technology, and a Higher Diploma in the same field, from the Federal University of Technology Owerri.

He has an Honorary Doctorate degree from Imo State University and a Fellow of the College of Agriculture, Umuagwo.

Uzodimma began his political career during the Second Nigerian Republic, joining the ruling National Party of Nigeria (NPN), where in 1983, he became the Imo State youth leader. In the 1990s, with the aborted transition to the Third Nigerian Republic, Uzodimma featured prominently as a member of the United Nigeria Congress Party.

In 1999, after the return to democracy, Uzodimma joined the Peoples Democratic Party (PDP), where he served as a member of the party's National Caucus, National Executive Committee and on the Board of Trustees, at various times between 1999 and 2017. As a party boss in Imo State, Uzodimma was a close associate of Governor Achike Udenwa until late 2002, when ahead of the April 2003 elections he decamped to the Alliance for Democracy (AD), becoming the party's candidate for the Imo State gubernatorial election. After losing the election to Udenwa, he returned to the PDP in February 2004.

In March 2019, the Independent National Electoral Commission sitting in Imo announced the governorship election results of Imo State: Emeka Ihedioha of the PDP who won with 273,404 votes, Uche Nwosu of Action Alliance with 190,364 votes, Ifeanyi Ararume of the All Progressives Grand Alliance with 114,676 votes; and Uzodimma in fourth place with 96,458 votes. Uzodimma later challenged the victory of Ihedioha up to the Supreme Court. On 14 January 2020, the Supreme Court declared Uzodimma the duly elected Governor of Imo State. The court held that results from 388 polling units were wrongly excluded from votes ascribed to Uzodimma and the APC in Imo adding that the first appellant Uzodimma holds the majority of lawful votes cast.

On 15 January 2020, he and Placid Njoku were sworn in as the Governor of Imo State and Deputy Governor of Imo State.

As Governor, Uzodimma has focused on various sectors such as education, healthcare, infrastructure, and security. He has initiated projects to improve the living standard for the people of Imo State, including the construction of roads, renovation of schools, and provision of healthcare facilities.

Uzodimma has also been involved in efforts to promote peace and security in Imo State. He has collaborated with security agencies to tackle issues of insecurity, particularly the activities of armed groups and criminal elements.

Despite facing criticism and challenges during his tenure, Uzodimma remains committed to the development of Imo State. He has expressed his vision to transform the state into a hub of economic activities, attracting investments and creating employment opportunities for the people.

*Titles*
In Oru local government, Imo State, Gov Uzodimma holds the chieftaincy title of Onwa-Netiri Oha of Omuma Kingdom because he is one of the relatives of the Okoro family of Etiti-Omuma.

*Awards And Nominations*
Among several awards and accolades, Gov. Hope Uzodimma was given the 2017 Personal Life of the Most Outstanding Parliamentarian of the Year by the Nigerian News.
In 2022, Uzodimma bagged a peace award from the United Nations for his efforts at promoting inter-ethnic harmony in Nigeria and good governance in the state.

He was nominated for the award by the United Towns Agency (UTA) for North-South Cooperation of the United Nations.
He also bagged The Sun 2021 Governor of the Year Award
Due to his sterling performance since his assumption of office as the governor of Imo State, South East Nigeria, Hope Uzodinma, bagged the prestigious honour of Most Prolific Governor of the Year 2023 by Face of Democracy Nigeria, FDN.
In May 2023, Gov. Uzodinma was conferred with the Grand Service Star of Rivers State (GSSRS) award for his contribution and commitment to national unity and equality.

Governor Uzodinma was also honoured by the Institute of Chartered Accountants of Nigeria (ICAN) for his outstanding performance in promoting fiscal transparency in governance.

*Hope Uzodimma in the last four years: What he has done*

Even in the most difficult of times, the people of Imo State still have reasons to smile. In his accustomed manner of connecting with the people, the state governor, Hope Uzodimma is unrelenting in the delivery of good governance.

One of the major takeaways from the first term in office of Governor Uzodimma is that a leader will always achieve good governance when honesty, passion and vision brought into policy-making and execution are greater than fears and excuses.

Despite fundamental challenges such as agitated violence and global economic downturn economic among others, the Uzodimma administration has continued to bring dividends of democracy to the people.

It is, therefore, heart-warming that the governor is seeking to be re-elected for a second tenure. This is good news for the residents of Imo state. Uzodimma, popularly known as Onwa, has used a greater part of his first term in office to improve their living condition.

This, he has done through the creation of wealth and more job opportunities, provision of quality social security system and galvanization of the youths with fresh ideas and tools to make them productive citizens among others.

Against all odds, In line with the manifesto of APC, Uzodimma fashioned out his prosperity agenda anchored on the three-pronged (3Rs) agenda of Reconstruction, Rehabilitation and Recovery. The broad objectives of the policies included a firm resolve to revive Imo State and recover for the people the years that had been lost to the locusts.

Where others saw only turmoil and deprivation, he recognised the boundless ingenuity and tenacity of the Imo people and applied extraordinary pragmatic and visionary leadership to rebuild the State.

For example, in healthcare, Uzodimma has tremendously granted access to quality and affordable healthcare to many Imolites. Through a strategic partnership with the World Health Organization, he created and implemented the Imo Health Insurance Programme. This has enabled over 66,000 Imo residents to obtain healthcare protection. Concurrently, strategic investments are augmenting primary healthcare infrastructure across the state to further expand and enhance access and availability of vital services for rural and urban communities.

*ROADS:*
• More than 1,000 kilometres of road networks in both urban and rural areas have so far witnessed reconstruction.
• The 35-kilometre Owerri-Orlu dual carriageway and the 46-kilometre Owerri-Okigwe road were delivered as intercity roads.
• The dualization of the Owerri-Mbaise-Umuahia road and another 46-kilometre stretch is ongoing.

• Also under construction is the Orlu- Akokwa-Arondizogu-Uga road leading to Anambra State measuring 37 kilometres.
• More than 30 major roads have been completed in the Owerri Capital Territory alone including Assumpta/ IbariOgwa/ Port Harcourt Road, Federal Secretariat Road (now Muhammadu Buhari Dual Carriage Way Drive), DickTiger Road. Akachi Road (nowEvan Enwerem Way) and Relief Market Road.

• About 64 roads spanning over 150 kilometres constructed and completed.

• Rehabilitation of another 43 routes accounting for over 350 kilometres ongoing in both urban and rural areas.

*HEALTH*
• Uzodinma has an impressive footprint in the health sector, expanding healthcare services, building and upgrading hospitals and clinics, and ensuring the availability of essential medical facilities

• Over 66,000 Imo residents obtain healthcare protection under the Imo Health Insurance Programme

• Renovated over 305 health centres in the 305 electoral wards

• More than 300 medical students graduated from the Imo State University Teaching Hospital after a decade of non-accreditation

• The Teaching Hospital is now fully equipped with state-of-the-art medical facilities including digital x-ray machines, mammogram machines, ambulances, dialysis machines, molecular biology and chemical pathology laboratory, equipment (for COVID-19andother viral disease tests) and anaesthetic machines

• Re-accreditation of nursing and midwifery schools in Aboh Mbaise and Awommama after they lost accreditation in 2011
• The Imo State Specialist Hospital in Owerri is now fully functional and performing complicated operations such as spinal and brain injury surgeries

• The Governor has procured 10 mobile clinics for speedy intervention

*EDUCATION*

• Upgrading facilities of primary and secondary schools across the state

• The facilitation of the upgrading of the Alvan Ikoku College of Education to the Federal University of Education
• Accreditation of the College of Education, Ihitte-Uboma to run various courses, including the Professional Diploma in Education (PDE), in affiliation with Imo State University has also been successfully implemented

*YOUTH AND SPORTS DEVELOPMENT*

• Training of 300,000 Imo youths on digital skills and link up to relevant jobs (i.e., the SkillupImo project).
• Full reconstruction of the famous Dan Anyiam Stadium in Owerri including the main complex, the indoor sports centre, and the handball court. An Olympic-sized swimming pool under construction on the same site is now nearing completion
• Over 5,000 young Ndi Imo have already completed the training and are either leveraging their heightened technical acumen to establish promising digital ventures or securing employment with leading tech firms like Zinox, Konga, and WakaNow among other digitally driven businesses within and beyond Imo.
• Rebranding of the state-owned Heartland Football Club.

*WOMEN EMPOWERMENT*
• The Ministry of Women Affairs and Vulnerable Groups in collaboration with the Office of Her Excellency, the First Lady, facilitated the organization of the International Children's Day Celebration and other National/Global Observances such as the International Women's Day.
• Organised Sixteen (16) Days of Activism on the elimination of Gender Based Violence (GBV) against women and children, like Female Genital Mutilation (FGM), Early Child Marriage, Child Labour and other harmful traditional practices.
• The Ministry also recorded the registration of five (5) Motherless Babies Homes and Three (3) Day-Care Centres
• The ministry also ensured that existing Homes/Day-Care Centres maintained approved Operational Guidelines.
• The governor also signed into law the bill on Violence Against Persons Prohibition (VAPP)

*AGRICULTURE AND WATER RESOURCES*
• The state engaged the Federal Government to complete the dams for dry-season farming at Inyishi and Okigwe
• Uzodinma also secured the cooperation of the CBN and other relevant bodies that have facilities for those in Agriculture
• The State Government replanted over One Hundred and Forty (140) Hectares of land with Oil Palm seedlings at Ada-Palm, Ohaji and Ngor-Okpala.
• He rehabilitated the abandoned Adapalm Plantanlan which occupies an area of 4310 hectares of oil palm
• The Acharaubo Farm Estata at Emekuku in Owerri North Local Government Area is back to life.
• The Otamiri Water Scheme which serves the Owerri Capital Territory now delivers potable hygienic water for members of the public
• The Eluama Water Scheme in Orlu local government area and Ekenguru Water Scheme in Aboh Mbaise LGA rehabilitated

*COMMERCE AND INDUSTRY*
• Recovery of markets especially Ekwe Ukwu Owerri Market built with state funds but handed over to the cronies of the previous administrations
• Strengthening of the market associations in a manner that streamlines the collection of government revenue just as it enables them to defend their rights as traders.
• Construction of a state-of-the-art ultra-modern market in Eke-Ukwu to assuage the pains of the people.
• The crafting and developing of the Imo State Sustainable Industrialisation Policy in collaboration with the United Nations Industrial Development Organization (UNIDO).
• Commissioning of fashion clusters with well-equipped industrial sewing machines to help our skilled dressmakers in the state to make trendy dresses, including T-shirts and face caps for industrial use
• The Uzodimma administration has also commenced moves to revamp all the moribund industries in the state
• Hope Uzodimma has paid off the debts owed to Assets Management Company of Nigeria (AMCON) by successive administrations in the state as regards the Imo Shoe Industry
• The government is also working with Investors for the revamping of the Nsu Tiles Ehime and the Avutu Poultry Farm.
• The government registered over 200 cooperative societies and organized rural farmers, artisans, and workers in the Private Sector into Micro Businesses for sustainable capital formation and increased productivity.
• Several cooperative societies have been linked to multi-lateral finance agencies such as Agric Loans Board, Bank of Agriculture (BoA), Bank of Industry (BoI), Micro Finance Banks (MFB), etc.

*ECONOMIC DEVELOPMENT*
• Uzodimma's economic performance has been impressive considering several parameters including Gross Domestic Product (GDP).
• The 2022 State of States report released by BudgIT revealed that Imo State has an estimated GDP of N7.68 trillion, making it the 4th out of the 36 states in the country with the largest GDP among its peers in the Southeast region
• Dredging and linking Oguta Lake to the Atlantic Ocean
• The revival of hitherto moribund industries in Imo State such as Adapalm and Acharaugbo Farms.
• Through his leadership, Imo State is included in the Special Agro-industrial Processing Zones (SAPZ) in Africa.
• the Imo State Industrial and Innovation Park is slated for take-off as the multi-billion-naira project will be situated at the Ibigwe Oilfield in Ohaji-Egbema LGA
• Creation of Ministry of Digital Economy and E-government through the Imo Digital Economy Agenda (IDEA) 2022-2026)

*SECURITY*
• Among other efforts, the government of Hope Uzodinma provided security vehicles, including Armoured Personnel Carriers (APC) to security operatives in the state.
• Provision of 100 Numbers of Innoson Hilux Vehicles for the operation of security operatives in the state
• Procurement and installation of very high frequency (VHF) radio/telecommunication equipment and other security equipment and gadgets to enhance communication and information gathering between security operatives

*REVENUE AND BUDGETARY REFORMS*
• The Imo State revenue has jumped by more than 100 percent under Uzodinma through meticulous and well-thought-out policies.
• Automation of all financial transactions and training of the staff of the Internal Revenue Service
• The optimization of revenue processes through the Treasury SingleAccount (TSA)
• The domestication of the Imo State Debt Management Law No. 6 of 2021 has become a great milestone for the State attracting USD 2 Million to the State as a Grant from the SFTAS/World Bank Programme.

*REJUVENATION OF CIVIL SERVICE*
• Digitisation of the workforce and mode of salary payments aimed at detecting and flushing out ghost workers.
• Training and retraining programmes for workers for better service delivery
• All verified Imo workers and pensioners have received their salaries and pensions up to date as the regular and full payment of salaries and pensions has become routine.
• As part of efforts to restore the psyche of the civil servants, the Governor presented official vehicles to permanent secretaries and provided free bus transportation for junior civil servants.
• The governor also restored seniority and discipline in the service and ensured that the hierarchy and reporting line in the service is respected.

• *Uzodimma's Promise To IMOLITES*. (Next four years)

For Governor Hope Uzodimma, Imolites remain the pillars of support for the developmental journey of his administration in the last four years. He believes the resilience and trust of the people of Imo State in his administration vision have been the driving force behind the progress achieved so far.

According to Gov. Uzodimma, the Next Level of Shared Prosperity, which his government aims to embark upon, will bring even greater value to our beloved state. The next four years would be a vision where each individual thrives and Imo state collectively soars to new heights.

Governor Hope Uzodimma's Promise to Imo State in the next four years is numerous. Some of the key areas that Uzodimma has promised to focus on include:

• Infrastructure Development: Uzodimma has promised to prioritize the development of infrastructure in Imo State, including roads, bridges, schools, hospitals, and other essential facilities.

• Job Creation and Youth Empowerment: He aims to create employment opportunities for the youth by attracting investments and promoting entrepreneurship. Uzodimma plans to establish more skill acquisition centres and provide training programs to empower the youth.

• Agriculture and Food Security: Uzodimma has expressed his commitment to revitalizing the agricultural sector in Imo State. He plans to support farmers, provide them with modern farming techniques, and improve access to credit and markets.

• Education and Healthcare: The Governor has promised to improve the quality of education in Imo State by upgrading schools, providing necessary infrastructure, and supporting the training and welfare of teachers. He also plans to enhance healthcare services, upgrade hospitals, and ensure accessible healthcare for all.

• Security and Good Governance: Uzodimma aims to improve security in Imo State by partnering with law enforcement agencies, investing in security infrastructure, and implementing policies to curb crime. He also promises to run a transparent and accountable government.

Edo 2024: Obaseki's Ingratitude Now Seeking Laundry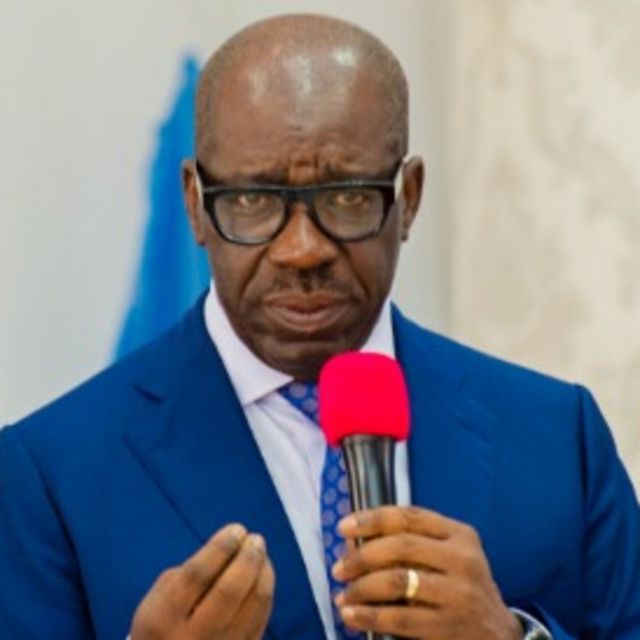 By Kassim Afegbua

Experience has a tendency to haunt their victims, and even render undue hardship to others in transfered aggression. When people behave in a very unsavoury manner to their benefactors, the rebound effect rubs off on others in a most regretful way, allowing reminiscences of old to perforate the reality of the present. What Governor Obaseki did to Senator Adams Oshiomhole, has taught the latter bitter leadership lessons such that circumspection, crystal gazing and double reflections have continued to dominate Oshiomole's thought process as regards those seeking the governorship seat of Edo state. Bad behaviour of one is like that oil that soils the fingers of life, cascadingly spreading beyond known boundaries, and leaving traces of regret and "had I known" on the lips of its victim. Even as Senator Oshiomhole, tries hard to rid himself of the tempers and ridicule that Governor Obaseki and deputy foisted on him, he continues to see the vestiges of that bad behaviour as a trap that must be avoided in the future. There is no art to see the mind's construction in the face; so says the old rhyme, but the behaviour of man is a predatory reference when trajectories are being chronicled. This is why Senator Oshiomhole, as leader of the APC in Edo state, is morbidly cautious about who to throw his weight behind, in the current contest for Edo Government House.

Anybody who survived Governor Obaseki's invidious game needs to thank God for remaining afloat without being mauled down by a stroke, as a consequence of its rude shock. Not only did Governor Obaseki fight for the removal of Comrade Adams Oshiomhole as chairman of the ruling party, he also blackmailed Oshiomole to a crescendo of contradiction. Oshiomhole's God is truly alive and now watching the two actors, Godwin and Phillip, who combined to ridicule the former Labour Leader, go after each other's throat. This should be a stark reminder to everyone that life's positions are akin to a revolving door. Obaseki is winding down now, and he's being confronted with accusations of poor performance occasioned by indecent behaviour, needless political squabbles, intemperate anger, noisy claims of bogus statistics, selective amnesia, importation of "foreigners" to run Edo economy, and a shameless attempt to balkanise the Benin Monarchy over artefacts that he knows nothing about. Now, at the twilight of his administration which has demarketed the state for the wrong reasons, at home and abroad, he suddenly remembers Senator Oshiomhole as a citizen deserving of an award. How disingenuous! A man he had hitherto rained all manner of allegations on, and was telling Edo people that Oshiomole wanted him to be making returns from Edo State's money, has suddenly become the attractive bride to be lauded twice within a spate of two months; to be welcome to grace State Programs, during which Governor Obaseki declared that Senator Oshiomhole made him Governor. Hellooo oooo!!. Is someone suddenly awake from slumber? I am yet to fathom the motive behind Governor Obaseki's recent romance. I pray Senator Oshiomhole does not fall for Obaseki's political knavery and duplicity, not a second time.

While I cannot choose Senator Oshiomhole's friends for him, I can caution him to be wary of those who speak tongue-in-cheek, conveying the symptoms of love in the morning, only to drive poison down his throat at night; those who are known to be bad people. Senator Oshiomhole must watch his back, and very well too. Governor Obaseki's smile and pretentious laughter shrouded in hatred, blackmail, and his pathological double-standard. What has suddenly happened to the paradigm that made him heap all those insults on Oshiomhole, that made him present Oshiomole as one who sought to feast on Edo people's collective till, with him the Governor, bravely wrestling power from this adversary on their behalf. Was it the same mouth that Governor Obaseki used to insult Senator Oshiomhole that he now uses to praise Oshiomole, to the point of saying that the former Governor made him Governor of Edo state? Has Governor Obaseki forgotten that he once said he had no godfather, and that he would not play the role of a godfather? For that reason, I guess he only played "BigDaddy" in the last Local Government election: The real elections were concluded in the field, but the losers went to the Government House in Benin to collect Certificates of Return, while the winners were left to agonise with dismissive verbiage. The victory of the current apparent winners was forced under Obaseki's auspices. Till today, no corrective measure has been taken. Losers are in office, while winners are helplessly and awfully left in the cold. That is coming from a man considered to be a technocrat; grinding people's emotions with high-handedness, heartlessness and sheer wickedness. How does one reconcile such situations? When leaders double-speak, it removes the fibre of morality and makes them little things before the discerning.

Now that Edo 2024 race has begun, Governor Obaseki's ingratitude and bad behaviour has kept Senator Oshiomhole pussilanimous, while seeking God's face and His voice in his choice of who flies the party's flag. There are persons who share the same characteristics as Governor Obaseki; people who pretend to love Oshiomhole more than himself, who have already positioned themselves; we know them. They speak about loyalty as though the word emanated from their cocoon. That was Godwin Obaseki's pastime between 2008 and 2016 when he was the Economic Adviser to Comrade Adams Oshiomhole. He carried Oshiomole's bag when they were traveling on several occasions, woke up in the mornings at Oshiomhole's door-step, and was arguably the last man to shut Oshiomole's door at night; but as soon as he won the election on 28 September, 2016, Oshiomhole was his first casualty. The heart of man is indeed deeply wicked: after the campaigns and election and results had been declared but the baton had not been handed over, they both travelled outside Nigeria for a short rest to recover. Unbeknownst to Oshiomole, Obaseki before leaving left instructions with the then Accountant General not to honour payments and approvals from Oshiomhole's table going forward. Civil servants being respecters of the In-Coming, the Accountant General played the ostrich from then on while Oshiomhole's approvals were pouring in but remained unattended. That was just the beginning. At Oshiomhole's present age, his muscles won't be able to withstand another stab in the back. He has to be circumspect and wary of the ides of March. There are a lot of Brutuses preying on him, but the thought of Godwin Obaseki's indecent behaviour scares his innermost recesses. Obaseki's latest olive branch compounds the scenario. It shows that it was all a plot. Nothing was inadvertent. Obaseki did all that he did deliberately. It was a tactic that fitted in his game plan. And he indeed scored a goal even at the price of being called infamous and a betrayer.

Governor Obaseki picked holes in the word "godfather" making it sound like an abominable word that he can never be associated with; but one year into the end of his tenure, just like yesterday, he has become the real godfather to his numerous footsoldiers and political gadflies. He's even telling his deputy what the deputy can do and must not do, assuming the author of a self-made constitution that bars Phillip Shuaibu's inalienable right. It may be said that it serves Phillip right, following his indecent behaviour like his boss', but the fact remains that Governor Obaseki cannot take away the right of anyone as guaranteed by the constitution. Now, Phillip Shuaibu has dared his boss, and declared his ambition to run. Welcome to Edo state's version of A Game of Thrones and Thorns. Get yourselves some popcorn, fasten your seat-belt, put a drink beside you, and off we go to the cruising altitude of comedy, tragedy and political tragi-comedy. It promises to be a blockbuster kind of drama, unveiling the protagonists and antagonists, locking horns in what promises to be an exciting drudgery. Now that Obaseki's tenure is coming to an end, with low ratings, no legacy projects, and with his intemperate behaviour towards Senator Oshiomhole staring at him in the mirror, he's mortally afraid of what Shuaibu's effort will bring forth before his table of authority. And the circus continues, even as Senator Oshiomhole laughs away the beauty of the soundbites. With his seat belt fastened, the thought of his successor's bad behaviour still hits at his mental awareness. It is a behaviour that will adversely affect others, no matter how well-intentioned they may be.

Power is an opium, an intoxicant that makes men blind to their real intention. Power and its addictive properties easily make men see their tenured positions as an endless voyages; as a sweet sail which end will never come. When they start snoring away their tenure, and the last year knocks with feverish pitch, the entire years scare them away especially when their performance cannot be fully celebrated. If Obaseki's deputy can run down their own administration, as lacking in sounds and bites, what better interrogation can be more than this authorial verdict in a piece of essay. Rather than be Obaseki's running mate in the shared vision to deliver on the promises made to Edo people, Shuaibu now uses his own mouth to run down their leadership. Obaseki and Phillip have taken their script to a ridiculous level, showing their cat and mouse skills. That is what happens when there is no sincerity of purpose, when mutual suspicion dominates actions, and when plans after plans are footed as stumbling blocks in the way of the actors. Are they Finishing well as their latest slogan declaims; erosion is still rife in Benin City. Finishing well, yet a library was demolished, to give way to the business of Shoprite's buying and selling. Yes, a place for knowledge acquisition and research for the tomorrow of Edo state was demolished for Shoprite chains of business. How well is this finishing? Or is it their fight they are promising to finish well. Anyway, what do we expect when the Governor has broken our vertebrae and left us nearly sprawling on the floor unable to be erect. When you affect the psyche of the average Edo mind, the mind of an average Edo mind will get to a psychic level of hollow ritual, loud noise and no content. May we never experience another Godwin Obaseki again. A second affliction will be one too many. Oshiomhole's taciturn approach will eventually exude much wisdom. May God bless Oshiomhole, our dear state and us all.

Rejoinder: Powerful Lagos, Powerless Osun State
By Mr Adedayo Oshodi, SAN

The article by one Lasisi Olagunju on the recent nomination of 21 justices for appointment to the Supreme Court should disturb any objective and well meaning NIgerian. It is calculated at escalating our fault lines. It is targeted at dividing the Nigerian judiciary along State lines. It is calculated at inciting Nigerians against Lagosians. It's a hate piece. We appear not to be fed up with the damage wrecked to our nation by our perennial ethnic and religion divisions. As a corollary, we appear committed to a race to the bottom, when appointments to our apex court is reduced to the clout of the respective states of origin of the justices of the Court of Appeal without any consideration for merit and/or seniority at the bench.

Truth be told, this has nothing to do with pedigree of the two erudite and respected Honourable justices of the Court of Appeal: Hon. Justice Habeeb Adewale Abiru and Justice Olubunmi Oyewole. Both of them are worthy and deserving of a seat at the Supreme Court. Just ask about them. Thus, it is bad enough that the judicial establishment appears to be heading towards one of them instead of both. We need and deserve both of them, in my opinion. On merit. It is even worse and unfair to both of them to reduce their hard work & careers to their states of origin with the despicable consequence of tainting the elevation of any of them by ascribing same to their origin as against their hard work and brilliance. It is a disservice to the erudite justices.


First, the author politically weaponized the appointments of nominees to the Supreme Court by referring to them as the "electors of our future presidents, governors and lawmakers." Haba!! We all know how and where presidents, governors and lawmakers are elected. It is mischievous to interchange adjudication of electoral disputes to election. It is fraudulent.

Secondly, the writer totally disregarded seniority at the bar and bench, which is a fundamental consideration in the legal profession. Neither did he pay any attention or give consideration to when the two justices were appointed to the bench or the quality of their judgements.

A simple google search would have assisted Mr. Lasisi Olagunju to write a balanced article that states the criteria set out by law as well as state the facts that supports or goes against any of justice's nomination. The fact remains that Justice Abiru was Justice Oyewole's senior at the then University of Ife (now Obafemi Awolowo University). He was also his senior at the bar. Most importantly, Hon. Justice Abiru was appointed to the Court of Appeal in 2012, whilst Hon. Justice Oyewole was appointed in 2014. Would it be fair for Justice Abiru to be skipped over because he is from Lagos State ? Or for his junior in the heir-achy to become his senior?

Yes, the extant law requires fulfillment of federal character principle so appointments into national institutions are not lopsided towards a particularly region. The balancing is based on the 6 geo-political zones(NW,NE, NC, SW, SE, SS) not based on states as suggested by Mr. Lasisi Olagunju.

The facts in the article are wrong. Based on my findings, there used to be pairs and it was Lagos and Ogun, Oyo and Osun and Ekiti and Ondo. But the pairings were jettisoned under Hon. Justice Aloma Mukhtar tenure as Chief Justice of Nigeria and it became zones. Things changed further when the Supreme Court was tasked to appoint its full complement of 21 Justices. South West got a fourth slot instead of 3, which was given to Ogunwumiju, JSC.

Assuming, without conceding, that we are even going by pairings referred to by Mr. Olagunju, the Oyo and Osun slot is occupied by the current Chief Justice of Nigeria, Justice Kayode Ariwoola.

The fact is that the slot available was vacated by a Lagosian in the person of Hon. Justice Olabode Rhodes-Vivour, who retired on 22nd March, 2021 after he was appointed on 16th September, 2010. He replaced another Lagosian, Justice George Adesola Oguntade, who retired on 10th May,2010. Now, Lagos is the commercial nerve Centre of Nigeria, where 90% Nigeria's VAT is generated. It's a mini Nigeria that accommodates everyone. Arguably, Hon. Justice Oyewole is a Lagosian , though not an indigene, as he was not only resident in Lagos but was appointed as a judge of the Lagos High Court. Essentially, you have two Lagos jurists to a large extent. So, why this division where is there is none?

Lasisi Olagunji should do right by these two fine jurists by not diminishing their ascendance to the Supreme Court by crediting same to power play as against merit and the time honored tradition of the Nigerian judiciary of seniority.



Why I Want To Be Edo Governor
By Kassim Afegbua

I returned from Benin City yesterday with a huge feeling of nostalgia, reminiscencing on the fond memories of events that dominated my engagements in 2016, after a fulfilling service as Commissioner for Information in the state. I looked back with nostalgia, reflecting on the time when Senator Adams Oshiomhole was in the saddle in the state. Recalled his fierce quest to see a new Edo, his vehement fear of failure, and his deep level of commitment to ensure that he left footprints of achievements across the state. His red roof revolution in the schools then was cheering news to many Edolites, his health sector reforms was another template of achievements coupled with the huge infrastructure ramp up in roads, and effective flood control. Adams Oshiomhole's well-intentioned administration was the denouement of recovering the state from inherited rots that dominated the state.

In 2008, Adams Oshiomhole was in a hurry to rewrite the ugly state of affairs in the state, by the time he would be leaving. Indeed he was satisfied as he bade farewell to the number one seat, that he had made considerable impact to lift the state from its infrastructural doldrums to olympian celebration of lofty achievements, which the people have not forgotten till date. On Saturday, 4 November, was another rehash of those good years: Adams Oshiomhole sauntered into the arena for the celebration of life of the mother- In-law of the sports maestro, Mike Itemuagbor, in Benin City. As Oshiomhole entered the arena, the shout of "Oshio" rented the air as he made triumphant gestures to the audience.

Edo people have a way of appreciating those who led them well, and Adams Oshiomhole is one former Governor the people cannot forget in a hurry. His huge achievements during his eight-years stint renew themselves everyday.

Edo State is presently in a state of quandary, enabled by a government that has paid little attention to important details. Edo state is flustered by a concatenation of developmental issues begging for attention. The intra-city roads wear the soreful eyeglasses of rotten underbelly. Potholes dot the streets in Benin like oasis of water in the desert. Benin City GRA is an embarrassment to any rational mind. With many big houses, many roads have been washed off by agents of denudation. The rain had just stopped when I arrived Benin City, and I saw the drugerous effort of my driver as he tried to navigate the pools of water and run-offs that make the roads almost impassable. The once beautiful GRA is a far cry of its old self. As we chatted on our way , I couldn't help asking questions, in a bid to reconcile what I have read on paper from Obaseki's media rottweilers and the reality I saw on ground. I was completely nonplussed.

When I see the Governor, Godwin Obaseki, on Television trying to undercut the Federal Government for neglecting Federal Givernment roads, I see the height of hypocrisy at play, using Federal roads to take the people's attention away from the mess that his township roads have become. Such administrative rot, wickedness and deliberate complacency and neglect of critical infrastructure has been the normative order in a government that is high on profligacy and low on performance. In Edo state, it has become a game of altercation between the government and the people; and the ugly sights of the township roads are quite discomforting.

Obaseki's government continues its tales by moonlight; tales of backward integration and under-performance, tales of crass abandonment of critical infrastructure, and tales of hypocrisy promoted to the pinnacle of greed and avarice, and functionally fueled by gossip, hate, suspicion and subterfuge. I took time out to travel round the state and I saw how deplorable some of Oshiomhole's projects have become for lack of maintenance by Obaseki, his successor. Each time I watch Governor Obaseki talk about the Federal Government's deplorable roads around the state, I laugh at the folly of a man whose polluted sense of hypocrisy and selective amnesia has doubled in recent times.

He needs to be referred to the Bible passage that addresses his malady. Whatever is in his own eyes cannot be smaller than tree trunks. Aside from turn-key projects which were meant to paint existing buildings of government offices, I didn't see any tangible, legacy projects to speak of in relation to the huge revenue of the state; and federal allocations have increased far beyond what obtained during Adams Oshiomhole's time. Bail-out funds have also been poured into the coffers of the state in recent times: palliatives from the Federal Government have been encouraging, refunds for federal roads that were built and renovated by Adams Oshiomhole also came into the state in billions since Obaseki took over. With all these inflows, the quantum of work done is alarmingly low and not commensurate. Even those with established low IQ ask questions. The main question is, where is Governor Obaseki putting the money?

As it is, Edo State is balkanised and there is an urgent need to build a state cohesion and enhance the usual spirit of camaraderie that formerly bound the Edos together. We are a people of shared commitment and values, with our cultural heritage that defines our identity. Governor Obaseki has blighted that and the state is now in disarray from different perspectives. The Benin Royalty, which used to be the strength of our communal linkages, is "suffering" in the hands of Governor Obaseki; no thanks to the Governor's deliberate effort to hurt its historical ingenuity, by trying to create other Kingdoms in a most abominable manner.

When a Governor doesn't connect with the people, the effect is the development of inferior complexes in form of conquistadorial mentality, that assesses every esteemed personality as a threat. The state has lost Chief Anenih, General Ogbemudia, Alhaji Inu-Umoru, Chief Uyigue, and quite a number of political bigwigs who made Edo's politics thick, and have rallying points in each Senatorial District. The vacuums created by the demise of these political heavy weights have not been filled and attempts by Senator Adams Oshiomhole and Chief Lucky Igbinedion to patch up those vacuums have been quashed by a Governor that wants to be the singular and ultimate rallying point. For that reason, Edo is always in the news for the wrong reasons. News of boiling point political temperature, news of supplanting Local Governments with halleluyah boys; instead of the right persons that were voted for, news of poor development and news of insecurity across the state. For how long are we going to be rotating around the same axis and expect different results? The need for a fresh thinking is apposite.

Driven by the urge to offer a new paradigm from what obtains and further buoyed by the desire to ameliorate the pain caused my people by the failure of the present occupants of the Osadebe Avenue, and the despair that now dictates to my people because of the crass hypocrisy that has become the second nature of government in Edo state, I have elected to join the race for the governorship position of the state. Let it be known that unlike some of those being promoted by the incumbent Governor, I have a rich knowledge of the state in terms of demographics and geography, and can help to harness the potentials that the state can boast of. Plus, I have the capacity, courage and boldness and grit to take objective decisions that would add value to the wellbeing of citizens of the state and meet the peoples needs.

Also, I have been a champion of good governance in the state, so, when given the opportunity to serve, it will offer me platform to translate my vision and mission for the totality of our people and will have to practice what I preach. I am confident that my understanding of the potentials across the state will help me tap into and explore the opportunities within and even outside our state, for the overall good of our people. I am known for having the capacity to unite all the forces and factors in the state to create the nexus that would galvanise the people to promote a sense of homogeneity in our dealings and engagements. I want to bring back our lost glory in the past seven years in a manner that would elicit citizens participation in governance and enhance our productivity.

We will revive and sustain previous effort of Red Roof Revolution to reclaim our schools, and boost our education sector in a most progressive way in line with modern global benchmarks.

Our present infrastructural decay brought on us by a tactless government with no discernible roadmap was headed for the poor service delivery that we presently witness ab- initio. Bringing on board "strangers" who do not have a grasp of the state to succeed the present government is a sine qua non for another round of ineffectual leadership and that will be most unwise. A leadership that promotes ethnic chauvinism, that promotes greed and self aggrandizement, and one that has shown a marked appetite for primitive acquisition of the most bizarre form, cannot birth anything good for the future. Briefcase business scavengers have taken over Edo state in such whimsical manner, that citizens struggle to be in the know of what transpires in the state. Beware of who is talking to you now, my dear people of Edo State; even those who can't even successfully run a home, are already criss-crossing the state in search of endorsement. Edo state will not travel that familiar route again; a route that foisted a leadership that never cared for our wellbeing or help to grow our collective destiny.

The state needs a young, vibrant, result-driven leadership that can connect to the aged and the youths, and help drive the wheel of progress to build a home where peace, love and affection radiates in our heart of hearts and prosperity is assured for all. We must insist on building our state in a manner that furthers our collective aspirations and yearnings irrespective of our political and ideological persuasions. The Edo spirit in us must be consciously nurtured to enrich our sense of oneness and unity of purpose. The task to building Edo of our dream with respect for our traditional institutions and royalties is what will help us to reposition our thought processes for a better Edo state. This is no doubt a huge assignment which I am prepared to undertake in order to reclaim Edo state, and save my fatherland; the heartbeat of the nation.