Ranching Is Private Business, Acknowledge Edo Method, Obaseki Tells FG
The Edo State Governor, Godwin Obaseki, has said that ranching is a private business and must be treated as such.

Speaking after his meeting with President Muhammadu Buhari in Abuja on Wednesday, Obaseki said Edo people would rather invest privately in the ranching business. Obaseki told newsmen at the State House that the clashes between farmers and herders could be resolved with a full implementation of the National Livestock Transformation Programme (NLTP).

He, however, urged the Federal Government to "acknowledge" the Edo State model. Throwing some more light on the model of his state, Obaseki said those involved in ranching are expected to provide the land.

The governor stated that during his interaction with President Buhari, he tabled his people's opinion as regards the ranching practice. Further making a case for his state, Obaseki said the NLTP should be able to "help Edo people benefit from the funding that is now being made available for people who want to go into the livestock business and have made investments in ranches and other similar livestock programmes,".

Obaseki explained that the private view of the ranching exercise is a key reason the Edo State Government is yet to promulgate a law banning open grazing.

"As you know, most southern states have passed laws relating to open grazing but Edo State has not. Because we want to ensure that whatever laws we pass are laws that we can enforce."

At the briefing, the governor also debunked rumours suggesting that he would be returning to the All Progressives Congress (APC).

He stated that as a politician of repute, his conscience would not allow him to betray those who gave him shelter when there was a political storm.

Obaseki explained that he did not leave the APC on his own terms, but was forced out, an action he says will not allow him to leave the People's Democratic Party (PDP)where he got support in his time of need.

"I think I've shown that I'm a politician with integrity and I have made it very clear that I didn't leave the other party on my own. I was pushed out of the party, and someone else gave me cover, gave me an opportunity.

"It will not be the right thing to do to now leave who helped you, who gave you the umbrella in your storm, and then go back to the person who pushed you out."
705 total views, 3 views today
'How Fake Zenith Bank Agent Stole N141,000 From My Account', Hairstylist Narrates
Mary Ajah, a hairstylist in Osun State, has narrated how a fraudster posing as a Zenith Bank representative defrauded her of N141,000.
The hairstylist said the scammer succeeded in his scheme because she was desperate to resolve a problem she had with her current bank account.
She said she chatted with the bank to find out what she could do to receive alerts via text messages and her email address but she was told to reach out to them via their social media handles or email addresses as they were not receiving calls at the time.
According to Ajah, this problem of not receiving notifications from her account had been going on since October, immediately after creating a current bank account.
"I sent an email to Zenith Bank, but they didn't respond on time, so I chatted with them via Twitter. I got a number from the Twitter account and was asked to chat with them on WhatsApp," Ajah said.
"I didn't realise on time that the number I received was from an impostor. While we were chatting, the scammer said he wanted to help me link up my savings account to my current account so I could start getting notifications.
"Then I got a number from Twitter to chat with on WhatsApp, but I didn't realise that it wasn't their number.
"He requested my card details, which I gave him. But immediately after that, I noticed that they withdrew N141,000. It was then that I had to tell my account officer what had happened."
Ajah stated that she reached out to the bank after the ugly incident occurred but nothing could be done to salvage the situation.
Credit: fijn
2,399 total views, 2,399 views today
Buhari Accuses Foreign Powers Of Being Behind Nigeria's Insecurity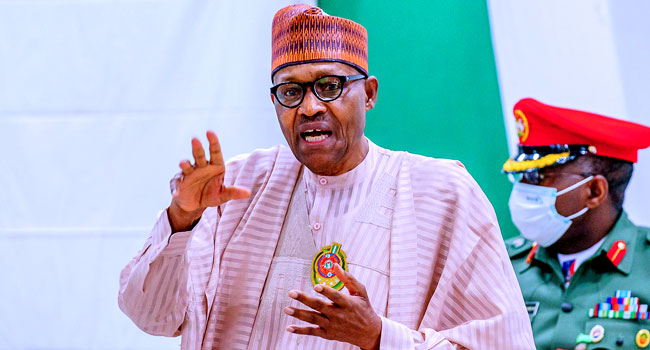 President Muhamamdu Buhari has attributed Nigeria's insecurity problem to powerful countries bent on destroying Nigeria.

Buhari made the assertion on Monday in Kano at a presidential lunch after his tour around the state to commission projects by the administration of Governor Ganduje.

According to him: "One can clearly see how these foreign countries took on our weaker part of Nigeria, the Lake Chad where we have reserves of crude oil, and cause serious mayhem there with consistent attacks."

But for Governor Zulum who is serious with his duty, the story of the area around Lake Chad would have been different by now, Buhari said.

The President reminded that in 2015 when he assumed office, only four of Borno's 17 local government areas were not in the hands of Boko Haram.

"And we are aware that people are using the insurgents who are fraudulent to cause problems, but today most of these local governments [areas] are free," he said.

The President added that those behind the insecurities knew that Borno was potentially a rich state. "That was why when I was a governor there, I went to Niger, Chad and even Cameroon because you need your neighbours to survive," he stated.

Buhari who expressed happiness with Governor Ganduje for the infrastructural development in Kano State also commended governors of Lagos, Kaduna, Katsina and Kogi states for doing good in their respective states.

The president also urged the elite to work on the education of youths, saying the lack of education among them is a problem.

President Buhari also cracked a joke saying he has huge qualifications including that of suffering and enjoyment while reminding that he was in prison and had contested the presidency on several occasions.
987 total views, 610 views today
Alison-Madueke Asks Court To Vacate Forfeiture Order On Seized Assets
Former Nigerian Minister of Petroleum Resources, Diezani Alison-Madueke, has asked a Federal High Court in Abuja, to vacate the final forfeiture order of her seized assets.

Recall that the presiding Judge of the court, Justice Mobolaji Olajuwon, had on October 24, 2022, granted a request by the Economic and Financial Crimes Commission (EFCC) for an order of final forfeiture of two Abuja properties and two luxury cars belonging to Mrs. Alison-Madueke, to the Federal Government.

The EFCC had in a notice, said it would conduct a public sale of all assets seized from Alison-Madueke beginning from Jan. 9.

Alison-Madueke was Nigeria's Petroleum Minister during President Goodluck Jonathan's administration.

In an originating motion, Mrs Alison-Madueke sought an order extending the time within which to seek leave to apply to the court for an order to set aside the EFCC's public notice issued to conduct public sale on her property.

The motion marked: FHC/ABJ/CS/21/2023 dated and filed Jan. 6 by her lawyer, Chief Mike Ozekhome (SAN), before Justice Inyang Ekwo, the ex-minister sought five orders from the court.

The former Minister, who argued that the various orders were made without jurisdiction, said these "ought to be set aside ex debito justitiae.

"The various court orders issued in favour of the respondent and upon which the respondent issued the public notice to conduct public sale of items contained in the public notice most of which court the interest of the applicant were issued in breach of the applicant's right to fair hearing as guaranteed by Section 36 (1) of the 1999 Constitution, as altered, and other similar constitutional provisions."

She argued that she was neither served with the charge sheet and proof of evidence in any of the charges nor any other summons howsoever and whatsoever in respect of the criminal charges pending against her before the court.

"The several applications upon which the courts made the final order of forfeiture against the applicant were obtained upon gross misstatements, misrepresentations, non-disclosure, concealment and suppression of material facts and this honourable court has the power to set aside same ex debito justitiae, as a void order is as good as if it was never made at all.

"The orders were made without recourse to the constitutional right to fair hearing and right to property accorded the applicant by the constitution.

"The applicant was never served with the processes of court in all the proceedings that led to the order of final forfeiture," she said.

While Alison-Madueke is the applicant, the EFCC is the sole respondent in the suit.

But the EFCC, in a counter affidavit deposed to by Rufai Zaki, a detective with the Commission, urged the court to dismiss Alison-Madueke's application.

Zaki, who was a member of the team that investigated a case of criminal conspiracy, official corruption and money laundering against the ex-Minister and some other persons involved in the case, said investigation had clearly shown that she was involved in some acts of criminality.

He said Alison-Madueke was, therefore, charged before the court in charge no: FHC/ABJ/CR/208/2018.

"We hereby rely on the charge FHC/ABJ/CR/208/2018 dated 14th November, 2018, filed before this honourable court and also attached as Exhibit C in the applicant's affidavit," he said.
2,129 total views, 472 views today