Nigeria's Misery Has Not Changed Yet Buhari's Govt Keeps Borrowing, Atiku Laments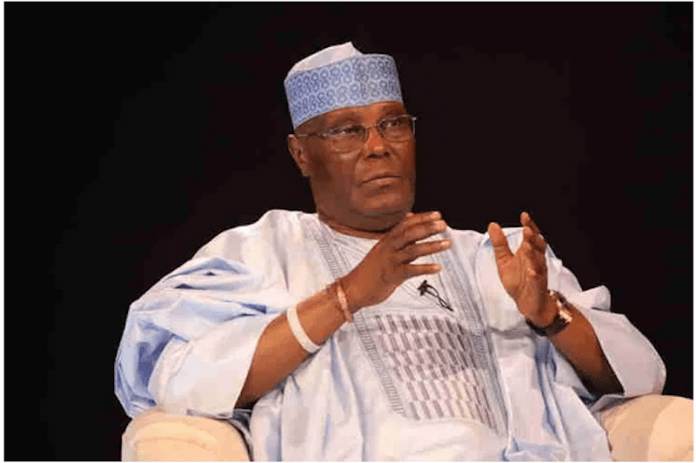 …Promises To Halt Rate Of Debt Accumulation
…Challenges NBS To Release Statistics On Poverty, Unemployment, Commodity Prices

The presidential candidate of the Peoples Democratic Party (PDP), Atiku Abubakar, has cautioned the Federal Government that increasing debts will never be a solution to the country's indebtedness.


Atiku, a former vice president, who in a statement, Tuesday, recalled that last week the National Bureau of Statistics (NBS) released the GDP figures for Q2 2022, said the government has been unreasonably upbeat about the reported growth rate of 3.4%.

Waziri Adamawa claimed that the economy is in deeper trouble than the All Progressives Congress (APC)-led government is willing to admit.

The former president lamented that citizens' level of misery hasn't changed under President Muhammadu Buhari's led APC.


Atiku attributed the misery to the slow pace of growth and decline of the agriculture, oil and gas and manufacturing sectors.

"Second, unabated are rising commodity prices occasioned by high energy and transportation costs (and aggravated by the disorderliness in the forex market), " he added.

The statement partly read, "Also, debt levels continue to rise while the fiscal capacity to service its debts is declining. All these are enough to erase the perceived gains from output growth.

"Having run out of ideas, it appears that our unprecedented level of indebtedness is whetting the government's appetite for more debt. This is a recipe for macroeconomic instability.


"We challenge the National Bureau of Statistics to share with the public their recent statistics on poverty, unemployment and commodity prices — the reality of which will leave no hope for the common man.

"Like I have said before, increasing debts will never be a solution to our indebtedness. My government, if elected, will halt the rate of debt accumulation and instead focus on private-public partnerships in financing development."

He noted that the consideration of a government of national unity will douse the temperature, unite Nigerians and pave the way for improved security.


According to him, improved security allows for investments and, therefore, an improved economy.
1,261 total views, 3 views today
2023: We'll Reproduce Burnt PVCs, Attacks Can't Stop Elections, INEC Assures
A former Akwa Ibom State Resident Electoral Commissioner (REC) for the Independent National Electoral Commission (INEC), Mike Igini says attacks on the offices of the electoral umpire are attacks on democracy but non-state actors can't stop the conduct of the 2023 general elections.

He also said the electoral commission will reproduce all Permanent Voters Cards (PVCs) burnt by hoodlums during attacks on its offices.

"I am very concerned about the attacks on INEC offices across the country particularly in the areas that have been identified," Igini said on Channnels Television's Sunrise Daily.

Attacks on INEC offices have surged in recent times with at least three incidents recorded only in November. 65,699 uncollected PVCs were destroyed by hoodlums who attacked two of its offices in Ogun and Osun states while several PVCs and other electoral items were also burnt during an attack in Ebonyi State.

However, Igini said INEC has the information of all PVCs at state and national offices and it won't take it days to reproduce them.

"INEC has the capacity to respond to these challenges, particular in respect to the PVCs that have been burnt. INEC has the number of all the PVCs…It is a matter of days, INEC will produce those PVCs," he said.

He urged Nigerians not to be discouraged but to ensure they get their PVCs and exercise their franchise in the next general election.

The former REC also decried the inability of security agencies to bring perpetrators of violent attacks on INEC offices to book.

"Why should extra-constitutional actors, why should non-legitimise actors continue to attack INEC. It is an attack on democracy. My pain is that we have not been able to track anybody.

"It is a big challenge to all security agencies in this country that for these years, we have been unable to track those who attack our democracy.

"Look at what happened in the US, all those who attacked the Capitol Hill have been brought to book everyday but here we are in a state of anomie," Igini stated.
481 total views, 481 views today
'APC Made Nigeria, The Poverty Capital Of The World', Charly Boy Fumes
Nigerian entertainer, Charles Oputa, popularly known as Charly Boy or Area Fada, has accused the All Progressives Congress, APC, of paying people to attend the party's campaign rallies.

The popular activist shared a video which captured a man in a vehicle giving out N1,000 each to those on board who were wearing APC caps and T-shirts on his Twitter handle.

He also accused the ruling party of crippling the nation's economy, saying APC made Nigeria the "Poverty Capital of the World".

He wrote, "APC paying money to rent crowd for their rallies. What a shame. They first made the country the Poverty Capital of the World, and now they're shamelessly renting crowds for their rallies openly.

"Anyways, collect your money but wake up
You should use your power to serve the people, not Oppress them!! Free Aminu!!!"
346 total views, 346 views today
Femi Kuti Frowns At Tinubu, APC Over Unauthorised Use Of Fela Song For Campaign
The family of Fela Anikulapo-Kuti frowned at the All Progressives Congress (APC) and its presidential candidate Bola Tinubu for the use of the late artiste's song for the 2023 election campaign.

Femi Kuti in a "disclaimer and notice of use without consent" for the Fela Anikulapo-Kuti family said the use of Fela's popular song "Eko Ile" during one of its campaign activities for their 2023 presidential campaign was unauthorised.

The Kuti family said it wished to continue to be politically neutral.

"We the administrators of the estate of Fela Anikulapo-Kuti issue this disclaimer. We wish to state here for clarity, that the permission of the estate was not sought for the use of Fela's music, Eko Ile, in the All Progressives Congress social media campaign currently making the rounds," Fela Anikulapo-Kuti family said.

"We do not involve Fela's music in any political campaign at home or abroad and choose to remain neutral.

"While we wish all candidates the best, we demand that the laws of the Federal Republic of Nigeria are abided by and intellectual property rights are duly respected. Signed the estate of Fela Anikulapo-Kuti."

Tinubu and the members of the APC presidential campaign council held a rally last Saturday at Teslim Balogun Stadium, Surulere, Lagos State.

Fela's popular song "Eko Ile" was used in a video recap of the rally by Tinubu on Twitter.
343 total views, 343 views today