NAFDAC Alerts Nigerians On Substandard Paracetamol From Liberia
The National Agency for Food and Drug Administration and Control (NAFDAC) has issued a public alert against the intake of substandard Paracetamol from Liberia.

Taking to Twitter on Thursday, NAFDAC issued an official statement to warn Nigerians against purchasing the drug before even thinking about taking it.

"The National Agency for Food and Drugs Administration and Control (NAFDAC) is notifying the public of a substandard paracetamol suspension PARA CLEAR SUSPENSION 125 received from Liberian Medicine and Health Product Regulatory Authority for laboratory testing in the NAFDAC Central Drug Control Laboratory (CDCL)," NAFDAC wrote.

"Laboratory analysis of the sample confirms that the product contains toxic ethylene glycol, a toxic substance that is not expected in product formulations.

"The product also failed the requirement for acute oral toxicity with five deaths of the laboratory animals recorded,"

NAFDAC said that diethylene glycol and ethylene glycol are toxic to humans when consumed and can prove fatal.

Public Alert No. 017/2023.
Alert on substandard Paracetamol Suspension received from Republic of Liberia.#NafdacALERTShttps://t.co/kKHpE9sCCN pic.twitter.com/L3LopU9ww5

— NAFDAC NIGERIA (@NafdacAgency) June 15, 2023

https://twitter.com/NafdacAgency/status/1669358843154026497?t=5s3RHY5ISR9KuFA1tM_8_Q&s=08

It further stated that the toxic effects can include abdominal pain, vomiting, diarrhoea, inability to pass urine, headache, altered mental state and acute kidney injury which may lead to death.

According to NAFDAC, Paracetamol Suspension is used for the treatment of mild to moderate aches and pain including headache, migraine, neuralgia, toothache, sore throat, menstrual pains etc.

It is also used for the reduction of fever and to be used as an adjunctive treatment to relieve symptoms of cold and flu.

Although the product is not in NAFDAC database, importers, distributors, retailers and consumers are advised to exercise caution and vigilance within the supply chain to avoid the importation, distribution, sale and use of substandard (contaminated) syrups.

NAFDAC said that all medical products must be obtained from authorized/licensed suppliers. The products' authenticity and physical condition should be carefully checked.

NAFDAC implores members of the public to desist from purchasing medicinal products from unauthorized sources such as roadside vendors and street hawkers as fake drugs are mostly smuggled into the country from neighbouring countries and distributed through such inappropriate channels.

"Anyone in possession of the above-mentioned product is advised to discontinue sale or use and submit stock to the nearest NAFDAC office," it said.

"If you, or someone you know, have used this product, or suffered any adverse reaction/event after use, you are advised to seek immediate medical advice from a qualified healthcare professional."

Healthcare professionals and consumers are advised to report any suspicion of the sale and use of substandard and falsified medicines to the nearest NAFDAC office.

Similarly, healthcare professionals and patients are also encouraged to report adverse events or side effects related to the use of the medicinal product to the nearest NAFDAC office.

"I Am Getting Better And I Feel Better" Jayboogie Gives Update On Health Post BBL surgery
Popular Nigerian personality Jayboogie has recently addressed the serious accusations of scamming Nigerians.

These allegations centered around Jayboogie's health issues and the supposed need for a kidney transplant following complications from a BBL surgery.

In a candid statement on social media, Jayboogie set the record straight. He explained that he never claimed he needed a kidney transplant. The rumors, he says, were not started by him. His real ordeal began with an injury to his kidney, which was a consequence of the BVL surgery. To lend credence to his story, he shared images of himself both in the surgical room and during his painful recovery.


Jayboogie recounted the harrowing experience of not being able to urinate for 12 hours post-surgery, which led to panic and an urgent referral to Lagoon Hospital on October 31, 2023. Despite undergoing a plasma exchange in an attempt to resolve the issue, his condition did not improve.

The situation was further aggravated by intense media scrutiny, prompting Zenith Hospital, where he was admitted, to discharge him and advise dialysis from home. Jayboogie highlighted the mental toll the controversy and public backlash took on him, including receiving death threats. This led him to take a break from social media and limit communication for his mental health, supported by his family's decision to ensure his privacy.

In his statement, Jayboogie categorically denied allegations of scamming the public. He affirmed that he did suffer from sepsis and acute kidney injury, which necessitated a period of dialysis. However, he joyfully shared that as of November 28, he was discharged and is currently recuperating. He is still under medication but is optimistic about his recovery.

Jayboogie concluded his statement by expressing his sincere gratitude to everyone who supported him financially and emotionally during this difficult time. His response to these allegations sheds light on the complexities faced by public figures when their personal struggles become intertwined with public perception and misinformation.

'Waste Of Resources Amid Hardship', Peter Obi Faults Number Of Nigerian Delegates At COP28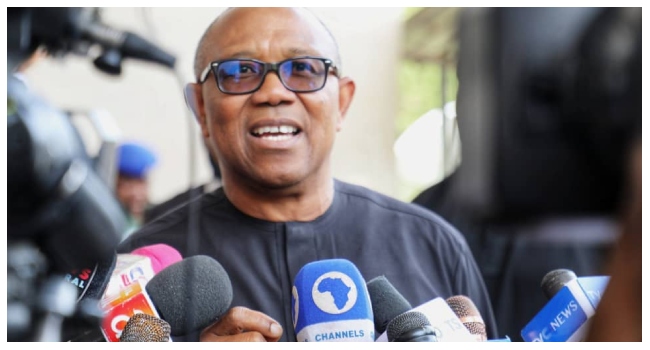 The 2023 presidential candidate of the Labour Party (LP), Peter Obi, on Sunday, faulted the number of Nigeria's delegation at the COP28 Climate Summit in Dubai, the United Arab Emirates (UAE).

President Bola Tinubu had on November 29, 2023 departed Abuja for Dubai for the summit expected to end December 12, 2023.

In a post on X (formerly Twitter), the ex-governor of Anambra State, described sending over 1,000 persons to the summit as a waste of scarce resources by the Tinubu administration.

Obi lamented the "huge contingent" in Dubai at public expense at a time when most Nigerians can hardly afford food and basic needs.

"Nigeria's contingent to COP28 totaled 1411, the same number as the Chinese contingents. While China's budget for 2024 is about $4 trillion, about $2,860 per head; Nigeria's budget is about $33 billion, about $165 per head," Obi said.

"Nigeria has more people living in 'Multi-Dimensional' poverty than China, despite China having seven times our population."

Obi said majority of those in the Nigerian delegation to COP28 are either non-relevant civil servants or relations of high government officials.

"This huge contingent is out at public expense at a time when most Nigerians can hardly afford food and basic needs as a result of economic hardship.

"As we have kept emphasizing, we must stop waste as a a tradition of our government and nation. We urgently need to cut the cost of governance and invest in production.

"We need to de-emphasize unnecessary ceremony and showmanship as a mode of government behaviour. We need to tie spending to necessity and national Priority. A New Nigeria is possible. We only need to do the reasonable and the necessary."

Meanwhile, a presidential aide, Temitope Ajayi, in a comment on Sunday, defended the delegation of the President to the summit, saying that "President Tinubu and other officials on the Federal government delegation are in Dubai for serious business not jamboree".

COP28 Delegates: Analyst Doubts FG's 'Compassion' For Suffering Masses
A Professor of Political Science, Jideofor Adibe, has knocked the Federal Government over its "bloated" number of delegates at the COP28 Climate Summit in Dubai, the United Arab Emirates (UAE).

Adibe, who spoke on Channels Television's Sunday Politics, said, with about 1,000 delegates sponsored by the government to the two-week summit, the compassion of the President Bola Tinubu administration to the hardship faced by Nigerians was doubtful.

The President had on November 29, 2023 departed Abuja for Dubai for the summit expected to end on December 12, 2023.

Controversy has since surrounded the number of Nigerian delegates at the summit which ranked that of China, with many Nigerians on social media berating the government for being "insensitive" to their economic sufferings occasioned by the removal of petrol subsidy mid-2023.

Adibe lamented that with the harsh economy, the Tinubu administration should lead by example and cut cost of governance.

He said, "Amid the binge on loans and borrowings, and the increasing hardship and increasing emigration of Nigerians, these things happening, is not just that it raises the question about fidelity to cutting down the cost of governance, but also the question of whether there is even compassion for suffering Nigerians because if there is compassion for what is going on in the country at the moment, people (government officials) should also be sensitive to the optics about the whole thing."

The analyst said not just costs of flights of the officials in Dubai were funded by the government but their "Estacodes of about $900" daily and hotel costs for about two weeks of the summit.

The professor said the size of the President's delegation should be on specific roles and it should not be more than three ministers.

He urged the President to set the tone that his administration abhors waste by sanctioning officials responsible for the large delegation in Dubai.