Guber Polls: Soldiers Arrest Hoodlums Armed With Gun, Knife In Ogun
Nigeria Soldiers in Ogun State have arrested four hoodlums armed with knife and pistol on their way to polling units in Abeokuta, the Ogun state capital.

The hoodlums were arrested at Sapon in Abeokuta South Local Government Area, during the Governorship and State House Assembly Elections.

One of the soldiers at Sagon said that the four men were arrested with dangerous weapons including a gun and a knife


The soldier, whose name was not inscribed on his badge, explained why they are usually hard on the people.

He said, "When you see soldiers being hard on anyone, he is not just punishing anyone.

"We arrested four people with gun and knife. What are they doing with the gun and knife at the polling unit?

"I ask you, can you tell me what a voter wants to do with a gun and a knife.

"If they escape from police, they cannot escape from soldiers, we will catch them."

Meanwhile, another suspected hoodlum was seeing doing a frog jump under the Sapon bridge after being caught by security officers.
614 total views, 9 views today
Tinubu: 'Big Lie, I Can't Endorse Feb 25 Illegitimate Outcome Of Flawed Process, Atiku Clears Air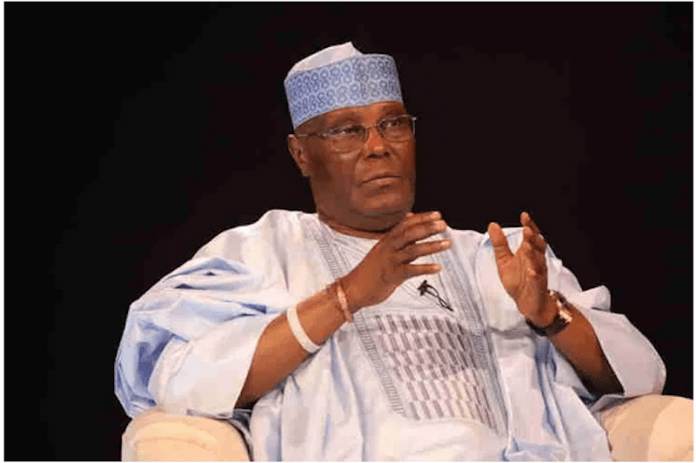 Presidential candidate of the Peoples Democratic Party, PDP, Atiku Abubakar has denied endorsing Bola Tinubu's victory.

The All Progressives Congress, APC, presidential flagbearer defeated Atiku and Peter Obi of the Labour Party, LP, and Rabiu Kwankwaso of the New Nigeria Peoples Party, NNPP.

In a statement on Saturday, Atiku said his attention was drawn to a fake press release attributed to him, "purportedly giving legitimacy to the widely rigged presidential election".


Atiku stressed that it did not emanate from him and should be treated with repudiation because it was contrived "by those who illegally appropriated the mandate of the people".

The former Vice President said his lawyers still have been mandated to challenge the outcome of the February 25 poll.

Atiku reiterated his outright rejection of the "pre-determined outcome of the February 25 election" and vowed to continue to challenge the legality.


Calling it the "worst election in our democratic history", the Wazirin Adamawa said his fight was not for personal interest but for the interest of Nigeria and its citizens.

"It is aimed at deepening democracy and ensuring that we do not confer legitimacy to an outcome of illegitimacy," the statement added
1,081 total views, 1,081 views today
Why I Didn't Support Soludo's Governorship Ambition, Obasanjo Opens Up
Former Nigerian president, Chief Olusegun Obasanjo on Saturday said he did not support Anambra State Governor, Prof. Chukwuma Soludo, initially.


He said he worked closely with Soludo while he was president and was impressed with his loyalty and lofty ideas, and when he approached him to seek his blessings that he wanted to be Anambra governor, he declined, telling him he would be more useful in a national or international role.

Obasanjo stated this during a ceremony to mark the first year in office of Soludo as Governor of Anambra State.


The former president said: "Soludo was close to me as an economic adviser when I was president and never misadvised me even once. That was why I sent him to the Central Bank of Nigeria later on.

"Ngozi Okonjo-Iweala and Chukwuma Soludo were the best appointments that I made while I was president.


"When Soludo came to me when he wanted to be governor previousIy, I didn't support him. Of course, I didn't disguise my anger towards him. I told him he should be thinking of something national or international.

"The experience I had of Anambra governorship then was that of Ngige and Chris Uba. I once told Soludo that this is what will continue to happen if people like him are running away from governance. So, when I told him I was disappointed in him going for governor, he also reminded me that I had earlier accused him of running away from governance. So, when he came back and told me he wanted to run, I told him he could go. I also told him – don't forget that I reserve you for national assignment, so you can use governor as an appetizer.


"From what I have heard and what I have seen, you have not disappointed me and I believe you have not disappointed the people of Anambra State. When you are done with this, you can think of something international, or national, that is where you belong," Obasanjo said.


Earlier, Soludo had taken time to reel out his achievements in the past year of being the governor of Anambra State.

"Here, our mantra is 'doing more with less'. We want to build a state that everyone will be proud of, and my children and great-grandchildren will be happy to live in.

"We want to transform Anambra to a liveable and prosperous homeland so that wherever we are, we will desire to be here. The Igbo man no matter where he lives, always desires to be brought back and buried here when they die. But we want to build a place we will not only be happy to be brought back for burial but that we will also like to live in.

"For me, I will be proud to live here, even when I am done with this job. The goodwill is here, the environment is getting better and we shall continue to strive to make it work. We only ask that wealthy Anambra people should help us by bringing back part of their investment. If we can get Anambra people in other states, who can pay their taxes here, then just sit back and see your money work for you," Soludo said.

He said that in one year as governor, he had employed 5,000 teachers at once, 3,000 health workers and constructed several roads in the state.

"Nigeria is a place where governors only employ massively when they are leaving office, but in one year, we have made many employments in the education and health sector, and we are planning more."

The event, which was attended by several dignitaries from across the country, including prominent Anambra indigenes, was held at the International Convention Center, Awka.
2,402 total views, 611 views today
INEC Speaks On Attack On Mahmood Yakubu's Alleged Home
The Independent National Electoral Commission, INEC, has denied that a property that was attacked in Bauchi State belongs to its chairman, Prof. Mahmood Yakubu.


The commission made this known in a statement signed by Yakubu's Chief Press Secretary, Rotimi Oyekanmi, on Saturday.

Oyekanmi insisted that his principal does not own any property and the rumours are part of a desperate smear campaign.


The statement read: "The property being purportedly attacked by some youths in a video clip circulating on the social media does not belong to the INEC Chairman, Prof. Mahmood Yakubu.

"The INEC Chairman does not own the property in question in either Bauchi or anywhere else around the world.

"This narrative is indeed the latest in the series of desperate smear campaign efforts by mischief makers. The public should disregard it.
999 total views, 281 views today