Ambode merits second term, not ministerial slot – CUPP tells Tinubu, Buhari
A political group known as the Coalition for United Political Parties (CUPP) has called on the Lagos State governor, Akinwunmi Ambode, to resist any attempt made by the National Leader of the All Progressives Congress (APC), Asiwaju Bola Ahmed Tinubu, to back down from his second term in office bid and accept any ministerial post.
In a statement signed by its 1st National Spokesperson, Ikenga Imo Ugochinyere, released to the media on Friday, CUPP stated that the people of Lagos must firmly resist the rampaging army of modern day slave-drivers who misrepresent democracy with civilian tyranny.
The group believed that President Muhammadu Buhari and the National Chairman of the party, Adams Oshiomhole, have not done enough to calm the raging tension between Tinubu and Ambode.
However, the group charged Ambode to maintain his position and always believe in the mandate of the people of Lagos irrespective of Tinubu's stand on his second term bid in 2019.
"We therefore urge Governor Akinwunmi Ambode to take a stand and be counted among the democrats. He must realize that the fate of Nigeria's commercial capital rests upon his shoulders and that he is ultimately answerable to a vast majority of Lagosians who will want to know why he jettisoned the mandate freely given to him without as much as a whimper.
"The people of Lagos must firmly resist the rampaging army of modern day slave-drivers who misrepresent democracy with civilian tyranny.
"Lagos is nobody's personal fiefdom," the statement said.
"The CUPP has watched with keen interest the unfolding political drama in Lagos State where the vaunting interest of one man is threatening the political stability of the commercial centre of Nigeria while the President watches uncaringly with toothpick in between his lips.
"The same party which promised change; having a chairman with labour background and a President who undeservedly ascribes integrity to his name, idly stands by while one man sustains his stranglehold on Lagos; apportioning political offices and dictating who becomes and who does not become what in Lagos State. This is the colour of the APC democracy!
"Reports emanating from several reliable sources from meetings held to tighten the grip of the National Leader of the APC on the treasury of Lagos State include such obnoxious conditions that Governor Akinwumi Ambode must sign an undated resignation letter which he would submit to the APC leadership before he would be supported to run for his second term in office.
"The reverberating silence that has greeted this inexplicable impunity shows that the highest echelon of the party, including the President and the National Chairman, Comrade Adams Oshiomhole, are party to this hideous violation of the age-long tenets of democracy.
"Needless to mention the grand plot to sustain the institutionalized plundering of the resources of Lagos State.
"The second condition is that the Governor would not be involved in the nomination process of all the candidates of his party for the House of Assembly. Such crude disenfranchisement insults the person of Ambode and denigrates the office of the governor. This is also to ensure that his impeachment goes through easily if he declines to sign the resignation letter.
"While the last condition is that the Governor will always have to consult the National Leader of APC, Asiwaju Bola Tinubu and obtain his approval whenever he wants to carry out any major project in Lagos State.
"It is a sad day for democracy; and mostly unfortunate that our democracy has been so trivialized that it has been privatized with the stake and aspirations of the people of Lagos state rendered inconsequential.
"It neither surprising that the usually garrulous National Chairman of the APC, Adams Oshiohmole couldn't find words for the travesty playing out in Lagos state nor is it strange in the least that the President who feigns ignorance even in issues of national importance is mum to the ridiculing of democracy in Lagos state.
"Apparently, it is convenient for the President to continue to play the ostrich in the misguided hope that Tinubu will be the political asset he needs to keep his doomed second term bid alive in the South West.
"Soon Mr. President and his party will realize how much they have squandered their goodwill and abused the mandate given by Lagosians and Nigerians. "Sadly, under APC, Lagos has become a study in infamy. There is no better definition of voodoo politics than for a person who does not enjoy the mandate of the people to be the person dispensing the mandate. This is an all time low and shows that the APC is a political party by day and a ravenous cult group by night.
"Sitting comfortably to share the common patrimony of all Lagosians without batting an eyelid as to the feelings and reactions of Lagosians is the height of impunity.
"It was such full blown exhibition of arrogance and mean-spiritedness occasioned by the serial looting of the commonwealth of Lagosians that led the National Leader of APC to declare in one of their disorganized campaign outings in Osun State that he was richer than Osun State."
By Augustine Akhilomen
509 total views, 3 views today
2023: Peter Obi Promises 'New Nigeria' If Elected President
The presidential candidate of the Labour Party (LP), Peter Obi, on Monday, headed to Jigawa State in continuation of his campaign ahead of the February 25 presidential election.

Obi assured a crowd of supporters in Dutse that he and his running mate, Datti Baba-Ahmed remain committed to delivering a "new Nigeria" if voted into power at the polls.

"I assure you that we are committed to a new Nigeria. The Nigeria you see today is Nigeria of insecurity, Nigeria of poverty, Nigeria of no work, Nigeria of no roads, Nigeria of no schools. That is what we want to change.

"For several years, we have been under insecurity, poverty, they closed our borders, poverty, and there is no work. The Nigeria we are offering you is a new Nigeria where there will be security, Nigeria will be united, there will be jobs and I will move Nigeria from consumption to production," Obi said.

The Labour Party flag bearer appealed to Jigawa electorate not to vote next month based on tribe, ethnicity or religion, adding that no tribe, ethnic group or religion buy food cheaper than others.

He also told the people not to accept when anyone tells them it is their turn to become president but insist it is the turn of the people of Nigeria to take back their country.

Thank you Jigawa State for your very Obidient support today. You all made it a huge success. I am grateful! -PO pic.twitter.com/s3QeeHul2p

— Peter Obi (@PeterObi) January 30, 2023

The former Anambra State governor is a main challenger to the candidate of the ruling All Progressives Congress (APC), Bola Tinubu and that of the main opposition party, the Peoples Democratic Party (PDP).
381 total views, 381 views today
2023: I Rescued You From Obasanjo's Onslaught, Tinubu Fires Atiku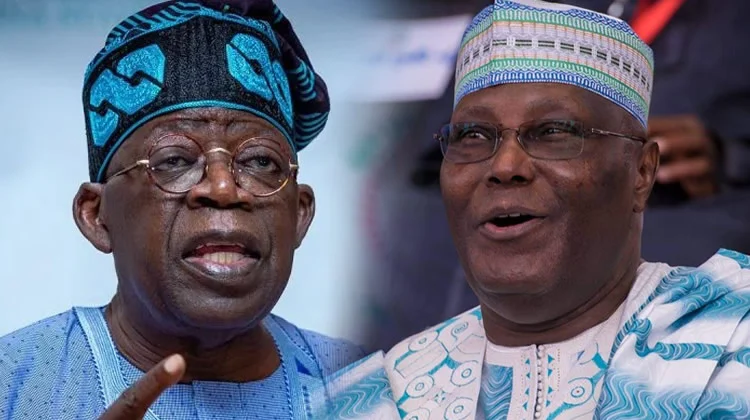 ….Your Continuous Gaffes, Miscues Are Effects Of Your Failing Health, Ex VP Replies Asiwaju

The presidential candidate of the All Progressives Congress (APC), Bola Ahmed Tinubu, has claimed he "rescued" the flagbearer of the Peoples Democratic Party (PDP), Atiku Abubakar from former President Olusegun Obasanjo.

Abubakar, who served as vice-president under Obasanjo, had a running battle with his former principal for years.

Both men reconciled ahead of the 2019 general election.

However, Obasanjo has since thrown his weight behind Peter Obi of the Labour Party (LP) for this year's poll.

Speaking on Monday during a campaign rally in Uyo, the capital of Akwa Ibom, Tinubu said: "I am the one that rescued him from Obasanjo who wanted to roast him like goat meat.

"He ran away to Dubai, and when the election came again, he (Atiku) came for stomach infrastructure. We rehabilitated him in Lagos and gave him a ticket but he wasted it and used it to collect money.

"He faced Obasanjo, faced Buhari and failed. He failed with Jonathan. He failed in all his subjects."

Meanwhile, the camp of former Vice President, Atiku Abubakar said the "constant gaffes" of All Progressives Congress, APC, presidential candidate Bola Tinubu were embarrassing.

Tinubu has made over 20 gaffes publicly since he declared his intention to contest, Atiku's special assistant on public communication Phrank Shaibu indicated on Monday.

A statement he signed said in Tinubu's rally in Akwa Ibom, the APC flagbearer goofed about making Atiku a Senate President though his opponent never contested any legislative election.

Shaibu noted that the former Lagos governor's gaffes and miscues are "effects of his failing health" which present danger to national security.

The aide recalled Tinubu's comment on recruitment of 50 million youths into the Army to solve the unemployment problem, advice to Nigerians to renew their Permanent Voter Cards (PVCs) before they expire, among others.
1,619 total views, 1,235 views today
2023: Any Attempt To Slam Anti-Party Allegations Against Me, G-5 Allies Will Have Consequences, Wike Warns PDP Leaders
Rivers State Governor Nyesom Wike has revealed he would "hit back" the national leadership of the Peoples Democratic Party, PDP, on Tuesday.

The governor, a member of the G5, spoke on Monday at a campaign rally in Etche Local Government Area of the state.

Wike reacted to the alert by the PDP national leadership about some lawyers appearing in court without legal briefs and authorisation.

The PDP said it would not hesitate to take stringent measures on any infractions that are misleading, questionable and fraudulent.

The spokesperson Debo Ologunagba referred to Article 42 of PDP's constitution (as amended in 2017) which places the exclusive responsibility of conducting litigations on the National Legal Adviser.

Ologunagba stated that only the official has the competence to engage external solicitors to handle cases on behalf of the party.

On Monday, Wike warned the PDP leadership that any attempt to slam anti-party allegations against him and allies would have consequences.

"Anti-party begets anti-party. You seen what they did? We took small parties in Rivers to court…APC, SDP.

"The people in Abuja that say they are national went and collude, wrote to our lawyers to hands off the case in plan to kill the cases we filed.


"I have told him to remove them. No problem, the cases will die. Me too, I'll hit them back by tomorrow," the Rivers helmsman hinted
985 total views, 600 views today