Amaechi leads Buhari's re-election bid
Transport Minister, Rotimi Amaechi, has been appointed by President Muhammadu Buhari as Secretary/Director-General of campaign organisation for his re-election in 2019.
Buhari approved the appointment on Thursday, Senior Special Assistant to the President on Media and Publicity, Malam Garba Shehu, said in Abuja.
Amaechi was the Director-General of the Buhari-Osinbajo Presidential Campaign Committee in 2014 to 2015 that won the elections and brought the current administration into office.
The presidential aide disclosed that the new Director-General would announce other appointments into the campaign structure as approved by the president.
The 53-year-old was the fifth Governor of Rivers State from 2007 to 2015.
He was re-elected for a second term on 26 April 2011.
Amaechi was a member of the Peoples Democratic Party (PDP) before he defected to the All Progressives Congress (APC) on November 27, 2013.
A 48-year-old lawyer and Senior Advocate of Nigeria (SAN), Mr. Festus Keyamo had earlier been appointed the spokesman of the campaign organisation.
Meanwhile, Samuel Ogbemudia Jr, the first son of late elder statesman, Dr Samuel Ogbemudia, has called for support for Buhari to overcome Nigeria's challenges.
Ogbemudia made the call in Benin on Wednesday on the occasion of the 85th posthumous birthday of his late father.
According to Ogbemudia, the country has passed through many trying times but God has always come to its rescue.
He said the fight against terrorism was a global challenge that should concern all Nigerians.
"Power comes from God; we have had similar challenges in the past.
"This is God's own country. President Buhari was not put there by man, he was put there by God and God knows the reason why he put him there.
According to him, "the 2019 election is going to go very smoothly"
Credit: NAN
427 total views, 3 views today
2023: Peter Obi Promises 'New Nigeria' If Elected President
The presidential candidate of the Labour Party (LP), Peter Obi, on Monday, headed to Jigawa State in continuation of his campaign ahead of the February 25 presidential election.

Obi assured a crowd of supporters in Dutse that he and his running mate, Datti Baba-Ahmed remain committed to delivering a "new Nigeria" if voted into power at the polls.

"I assure you that we are committed to a new Nigeria. The Nigeria you see today is Nigeria of insecurity, Nigeria of poverty, Nigeria of no work, Nigeria of no roads, Nigeria of no schools. That is what we want to change.

"For several years, we have been under insecurity, poverty, they closed our borders, poverty, and there is no work. The Nigeria we are offering you is a new Nigeria where there will be security, Nigeria will be united, there will be jobs and I will move Nigeria from consumption to production," Obi said.

The Labour Party flag bearer appealed to Jigawa electorate not to vote next month based on tribe, ethnicity or religion, adding that no tribe, ethnic group or religion buy food cheaper than others.

He also told the people not to accept when anyone tells them it is their turn to become president but insist it is the turn of the people of Nigeria to take back their country.

Thank you Jigawa State for your very Obidient support today. You all made it a huge success. I am grateful! -PO pic.twitter.com/s3QeeHul2p

— Peter Obi (@PeterObi) January 30, 2023

The former Anambra State governor is a main challenger to the candidate of the ruling All Progressives Congress (APC), Bola Tinubu and that of the main opposition party, the Peoples Democratic Party (PDP).
409 total views, 409 views today
2023: I Rescued You From Obasanjo's Onslaught, Tinubu Fires Atiku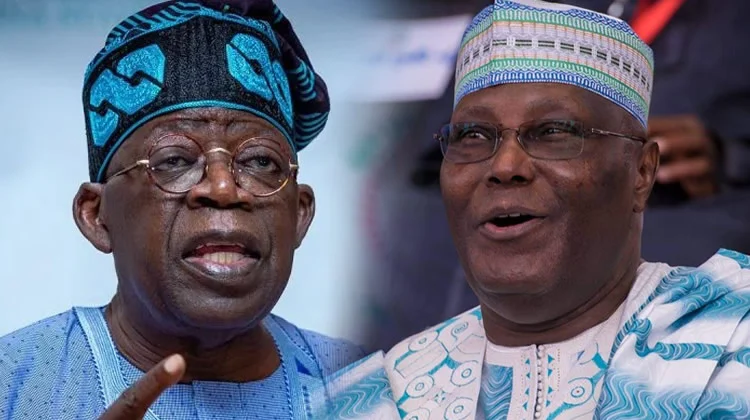 ….Your Continuous Gaffes, Miscues Are Effects Of Your Failing Health, Ex VP Replies Asiwaju

The presidential candidate of the All Progressives Congress (APC), Bola Ahmed Tinubu, has claimed he "rescued" the flagbearer of the Peoples Democratic Party (PDP), Atiku Abubakar from former President Olusegun Obasanjo.

Abubakar, who served as vice-president under Obasanjo, had a running battle with his former principal for years.

Both men reconciled ahead of the 2019 general election.

However, Obasanjo has since thrown his weight behind Peter Obi of the Labour Party (LP) for this year's poll.

Speaking on Monday during a campaign rally in Uyo, the capital of Akwa Ibom, Tinubu said: "I am the one that rescued him from Obasanjo who wanted to roast him like goat meat.

"He ran away to Dubai, and when the election came again, he (Atiku) came for stomach infrastructure. We rehabilitated him in Lagos and gave him a ticket but he wasted it and used it to collect money.

"He faced Obasanjo, faced Buhari and failed. He failed with Jonathan. He failed in all his subjects."

Meanwhile, the camp of former Vice President, Atiku Abubakar said the "constant gaffes" of All Progressives Congress, APC, presidential candidate Bola Tinubu were embarrassing.

Tinubu has made over 20 gaffes publicly since he declared his intention to contest, Atiku's special assistant on public communication Phrank Shaibu indicated on Monday.

A statement he signed said in Tinubu's rally in Akwa Ibom, the APC flagbearer goofed about making Atiku a Senate President though his opponent never contested any legislative election.

Shaibu noted that the former Lagos governor's gaffes and miscues are "effects of his failing health" which present danger to national security.

The aide recalled Tinubu's comment on recruitment of 50 million youths into the Army to solve the unemployment problem, advice to Nigerians to renew their Permanent Voter Cards (PVCs) before they expire, among others.
1,696 total views, 1,312 views today
2023: Any Attempt To Slam Anti-Party Allegations Against Me, G-5 Allies Will Have Consequences, Wike Warns PDP Leaders
Rivers State Governor Nyesom Wike has revealed he would "hit back" the national leadership of the Peoples Democratic Party, PDP, on Tuesday.

The governor, a member of the G5, spoke on Monday at a campaign rally in Etche Local Government Area of the state.

Wike reacted to the alert by the PDP national leadership about some lawyers appearing in court without legal briefs and authorisation.

The PDP said it would not hesitate to take stringent measures on any infractions that are misleading, questionable and fraudulent.

The spokesperson Debo Ologunagba referred to Article 42 of PDP's constitution (as amended in 2017) which places the exclusive responsibility of conducting litigations on the National Legal Adviser.

Ologunagba stated that only the official has the competence to engage external solicitors to handle cases on behalf of the party.

On Monday, Wike warned the PDP leadership that any attempt to slam anti-party allegations against him and allies would have consequences.

"Anti-party begets anti-party. You seen what they did? We took small parties in Rivers to court…APC, SDP.

"The people in Abuja that say they are national went and collude, wrote to our lawyers to hands off the case in plan to kill the cases we filed.


"I have told him to remove them. No problem, the cases will die. Me too, I'll hit them back by tomorrow," the Rivers helmsman hinted
1,014 total views, 629 views today