Abba Moro Emerges Senate Minority Leader
Senator representing Benue South Senatorial District, Abba Moro, on Tuesday, emerged Senate Minority leader.


Moro, a two term Senator on the platform of the Peoples Democratic Party, PDP, was nominated by the opposition party in the red Chamber and was subsequently affirmed.

He took over from Senator Simon Davou Mwadkwon representing Plateau North Senatorial District who was removed by the Appeal Court.


Earlier, the Senate had zoned the Minority leader to the North Central. Senator Mwadkwon, though a first timer to the Senate, was nominated by the minority caucus.

Recall that the newly elected Minority leader was a former Minister of Interior during the former President Goodluck Jonathan administration.

'Tinubu Won't Tolerate Killer Herders' – Sunday Igboho Replies Miyetti Allah
Yoruba nation activist Sunday Adeyemo, popularly known as Sunday Igboho, said on Sunday that President Bola Tinubu will not allow lawlessness that led to herders killing farmers under the immediate past administration of former President Muhammadu Buhari.

Igboho cautioned herders against the thought of further attacks on farmers in the Southwest.

He remarked in reaction to a comment by the national president of Miyetti Allah Kautal Hore, Abdullahi Bello Bodejo, who dismissed his recent quit notice to Fulani herders to vacate the Southwest.

In October, Igboho had given Fulani herders seven days to vacate the Southwest.

by TaboolaSponsored LinksYou May Like

Want to know more? click here
bet9ja.com
However, Bodejo had condemned the ultimatum issued by Igboho in a recent interview.

Igboho, in his reaction, described Bodejo as a "mere attention seeker." He insisted that Nigeria's Constitution does not support mindless killings of farmers, rape of their wives, and destruction of farmlands.

In a statement he signed, Igboho said: "Some alleged killer Fulani herders must be stopped from re-igniting tension and an atmosphere of insecurity in any part of Nigeria, most especially in the agrarian communities and settlements in Yorubaland, by the security agencies.

"It is imperative for the Miyetti Allah group to be conscious of the fact that the acts of lawlessness permeated under former President Muhammadu Buhari will not hold sway under the immediate incumbent President Bola Tinubu.

"It is glaring that Bodejo is merely seeking undue recognition through his unjustifiable position on the carnage by his fellow Fulani herders, which had caused untold hardship for small and large-scale farmers, even in the North and more prominently in the South, where they often move their cattle to graze farms and destroy cash crops.

"It will do them a lot of good to perish the thought of unprovoked attacks on farmers, particularly in the South West, where we have lost many innocent farmers. Relevant security agencies and the people will not allow them to further compound the woes of the common man."

Julius Berger Hands Over Second Niger Bridge To FG
Construction giant and contractor of the Second Niger Bridge, Julius Berger, has formally handed over the multi-billion naira project to the Federal Government.

In a brief ceremony at toll area of the bridge, the Minister of Works, Dave Umahi, expressed satisfaction with the project, confirming that the contractor had carried out repairs on the vandalized portions

He also noted that the bridge is open to concession to any private company who would be ready to complete all the ancillary roads, collect tolls and recoup investments.

Umahi hinted that modalities to ease traffic at the old and new bridges during the festive period are being worked out.

The 1.6 kilometers long bridge links Anambra and Delta states.

The Second Niger Bridge was first proposed during the 1978/79 political campaign by then-candidate Shehu Shagari of the National Party of Nigeria (NPN)

'Waste Of Resources Amid Hardship', Peter Obi Faults Number Of Nigerian Delegates At COP28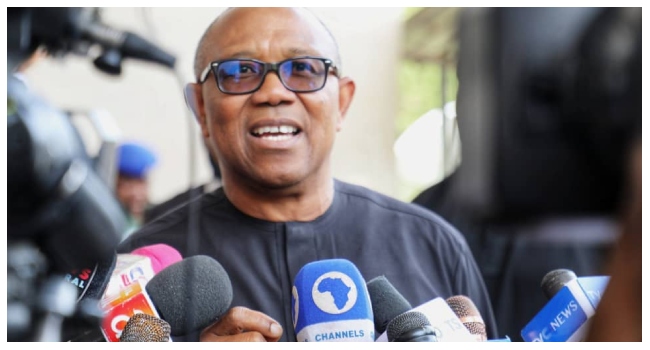 The 2023 presidential candidate of the Labour Party (LP), Peter Obi, on Sunday, faulted the number of Nigeria's delegation at the COP28 Climate Summit in Dubai, the United Arab Emirates (UAE).

President Bola Tinubu had on November 29, 2023 departed Abuja for Dubai for the summit expected to end December 12, 2023.

In a post on X (formerly Twitter), the ex-governor of Anambra State, described sending over 1,000 persons to the summit as a waste of scarce resources by the Tinubu administration.

Obi lamented the "huge contingent" in Dubai at public expense at a time when most Nigerians can hardly afford food and basic needs.

"Nigeria's contingent to COP28 totaled 1411, the same number as the Chinese contingents. While China's budget for 2024 is about $4 trillion, about $2,860 per head; Nigeria's budget is about $33 billion, about $165 per head," Obi said.

"Nigeria has more people living in 'Multi-Dimensional' poverty than China, despite China having seven times our population."

Obi said majority of those in the Nigerian delegation to COP28 are either non-relevant civil servants or relations of high government officials.

"This huge contingent is out at public expense at a time when most Nigerians can hardly afford food and basic needs as a result of economic hardship.

"As we have kept emphasizing, we must stop waste as a a tradition of our government and nation. We urgently need to cut the cost of governance and invest in production.

"We need to de-emphasize unnecessary ceremony and showmanship as a mode of government behaviour. We need to tie spending to necessity and national Priority. A New Nigeria is possible. We only need to do the reasonable and the necessary."

Meanwhile, a presidential aide, Temitope Ajayi, in a comment on Sunday, defended the delegation of the President to the summit, saying that "President Tinubu and other officials on the Federal government delegation are in Dubai for serious business not jamboree".