2023: PFN Distances Self From Northern Bishops' Meeting With Tinubu As More Disquiet Rocks APC's List Of Presidential Campaign Council
After a spell of seeming harmony within the ruling All Progressives Congress (APC), discordant tunes are coming to the fore ahead of a long four-month campaign stretch for 2023 general elections, which officially kicks off on Wednesday, September 28.


Barely two days after the visit to presidential candidate of the APC, Asiwaju Bola Tinubu, the Pentecostal Fellowship of Nigeria (PFN) has disowned the 'Pentecostal Bishops' Forum of Northern Nigeria,' which met with Tinubu on Friday in Abuja. This is fallout from the uproar over the single faith ticket adopted by the ruling party for next year's presidential polls.

Denouncing the clerics' parley yesterday, the Deputy National Secretary of PFN, Bishop David Bakare, said such group does not exist within the PFN, saying, "there is nothing in PFN that is regional based like Southern or Northern Pentecostal Bishops.

"The PFN was not part of the meeting with the presidential candidate that was highly politicised. We are, however, aware of the ripples in the public domain about this matter. I am speaking officially to clarify that PFN has nothing to do with that," he stated.

Continuing, Bakare said: "The PFN is an arm of the Christian Association of Nigeria (CAN) and the position of the fellowship on the same faith presidential ticket of the APC has not changed. I am speaking to you officially and authoritatively that the ranks of the Christian community and of course, the PFN, which I represent, is not broken at all.

"The Pentecostal Bishops' Forum of Northern Nigeria is not known to the PFN. The forum does not have any affiliation or relationship with the PFN that is registered with the government of this nation. The position of the PFN on same faith ticket still stands as it was in the beginning and we have not, for any reason, shifted our position on that matter.

"I looked at the photos and the names. I could recognise about two who are our members, but they speak for themselves. All Pentecostal leaders in Nigeria, from the Redeemed Christian Church of God, Living Faith, Mountain of Fire, House on the Rock, among others, speak with one voice.

"Finally, I wish to let you know that there is nothing in PFN that is regionally based like Southern or Northern Pentecostal Bishops. As a matter of fact, the PFN does not have any settings for Bishops. What we have is PFN, we do not separate Bishops of Pentecostal from other clergies of Pentecostal. PFN is just one body under which all Bishops, Pastors and members are lined up behind Bishop Francis Wale Oke, the President. We stand by our decision, we have not and will not bend to the dictate of any political group."

Meanwhile, more dispirited reactions are trailing the publication of the APC Presidential Campaign Council released at the weekend. Former aspirants of the ruling party under the auspices of APC360 have urged Tinubu to ensure that all aggrieved members of the party are genuinely reconciled.

According to them, this should start from proper inclusion of the party's former aspirants in the party's Presidential Campaign Council.

National Secretary of the group, Chris Enoch, in a statement yesterday, warned that any 'window dressing' reconciliation would be counterproductive.

He advised the APC not to ignore such stakeholders of the party, but put efforts in place to ensure that their strength is galvanised to bolster the party's chances at the polls.

Enoch observed that there are still frayed nerves arising from the 2015, 2018 and 2022 primaries of the party, adding that APC needs the aggrieved members to ensure a successful outing for the party at the presidential, governorship, senatorial, Representatives and Assemblies election.

According to Enoch, in 2018 and 2022, its members spent an estimated N10.226 billion and N18.061 billion respectively on direct purchase of nomination and expression of interest forms alone.

It was also gathered that some APC governors, under the aegis of the Progressive Governors' Forum (PGF), are displeased over failure to nominate their preferred candidates into the presidential campaign council.

On Saturday, Secretary to the APC campaign council, James Faleke, unveiled a list of 422 members, including many who are to work at the regional and state levels for Tinubu's success in the presidential election in February.

Before then, sources said the party's leadership had contacted the governors through the PGF secretariat to nominate individuals in their respective states to be members of the presidential campaign council, with the governors requested to nominate five persons each.


It was, however, gathered that the governors were stunned to see that Tinubu and the party ignored their nominations and replaced them with others from their states without consulting them.

"For instance, in a state in North Central, the governor submitted five names, none of them made the list of seven from the state and to make matters worse, all seven of them are from the same local government," the source said.

Controversies had trailed the release of the party's campaign council list. There were speculations that Vice President Yemi Osinbajo declined membership of the committee due to his opposition to his party's Muslim-Muslim presidential ticket.

But the APC campaign spokesperson, Festus Keyamo, said it was President Muhammadu Buhari who advised that Osinbajo be exempted from the campaign council due to his important role in administering the country pending the handover of power.

Also, some Southeast chieftains of the party have lamented their exclusion from the presidential campaign council, saying their flag-bearer may be unwittingly pushing them to campaign for Labour Party (LP)'s candidate, Peter Obi, with their massive exclusion from the list.

Reacting to the exclusion of many prominent members of the party in the Southeast geopolitical zone, a chieftain who spoke on condition of anonymity argued that the few names that made the list and the inconsequential positions assigned to them are confirmation of lack of regard Tinubu has for the party's members from the zone.

While commenting on the list, the party's chieftain claimed that the former Lagos State governor has inadvertently facilitated what he described as the possibility of many of them secretly campaigning for the LP presidential candidate, expressing disappointment over Tinubu's action.

"It is clear that Tinubu has no regard for the Igbo members of this party. Why did I say so? If you divide the composition of the 422-member council into the six geopolitical zones, it should be at least 60 persons each, but how many party members from the South East made the list?


"They are not up to 35 or at most 40 persons. Does that show respect? Again, he reduced the presidential aspirants of Igbo extraction that contested against him to mere observers with the kind of positions he gave to them," he argued.
SPEAKING on insinuations in some quarters that the President may be working behind the scenes for the emergence of a Northerner as his successor in 2023, National Officer of Buhari Support Organisation (BSO), who doubles as the South-South woman leader, Lauretta Onochie, has dismissed such claims.

Speaking at an enlarged meeting of ward and local government coordinators of the organisation in Asaba at the weekend, Onochie said: "We all know that President Buhari will not be on the ballot in 2023 but he will be in the background. So, the essence of it is to let members know that PMB stands with Tinubu and all members of BSO also stand with Tinubu.

"PMB has no tribal or ethnic or religious bone in his body. He does not do religion, he is spiritual, he does not do tribalism, he is a very fair-minded person. People just think that if they say he is nepotistic, that he is rooting for the North, it will not stick because that is not who he is.

"PMB is a trusted man who follows due diligence and he respects those who have been working with him and have supported him," she stated.
1,117 total views, 3 views today
'How Fake Zenith Bank Agent Stole N141,000 From My Account', Hairstylist Narrates
Mary Ajah, a hairstylist in Osun State, has narrated how a fraudster posing as a Zenith Bank representative defrauded her of N141,000.
The hairstylist said the scammer succeeded in his scheme because she was desperate to resolve a problem she had with her current bank account.
She said she chatted with the bank to find out what she could do to receive alerts via text messages and her email address but she was told to reach out to them via their social media handles or email addresses as they were not receiving calls at the time.
According to Ajah, this problem of not receiving notifications from her account had been going on since October, immediately after creating a current bank account.
"I sent an email to Zenith Bank, but they didn't respond on time, so I chatted with them via Twitter. I got a number from the Twitter account and was asked to chat with them on WhatsApp," Ajah said.
"I didn't realise on time that the number I received was from an impostor. While we were chatting, the scammer said he wanted to help me link up my savings account to my current account so I could start getting notifications.
"Then I got a number from Twitter to chat with on WhatsApp, but I didn't realise that it wasn't their number.
"He requested my card details, which I gave him. But immediately after that, I noticed that they withdrew N141,000. It was then that I had to tell my account officer what had happened."
Ajah stated that she reached out to the bank after the ugly incident occurred but nothing could be done to salvage the situation.
Credit: fijn
2,189 total views, 2,189 views today
BBTitans: HoH Blue Aiva And Partner Save Yemi's Pair As Khosi, Miracle, 7 Others Face Possible Eviction
Housemates in the Big Brother Titans reality show have nominated each other for possible eviction on Sunday.

Recall that Blue Aiva and Kanaga Jnr emerged Head of House on Monday night.

This followed the eviction of Sandra and Theo during the live show on Sunday.

At the end of the nomination process on Monday, BlaqLeng, KhosiCle, ThabaNa, YeLisa and JayKay.

However the HOH, KanAiva saved Yelisa and replaced with MaYa.

Here is how housemates nominated:

YeLisa- JayKay and BlaqLeng

JayKay- JenniLi and ThabaNa

Royals -KhosiCle and ThabaNa

KhosiCle -Royals and BlaqLeng

JuVonne – KhosiCle and BlaqLeng

JenniLi -YeLisa and KhosiCle

JuOvla -BlaqLeng and ThabaNa

BlaqLeng -KhosiCle and JuVonne

MaYa -ThabaNa and BlaqLeng

ThabaNa -JayKay and YeLisa

KanAiva -JayKay and KhosiCle
2,231 total views, 1,826 views today
2023: I Rescued You From Obasanjo's Onslaught, Tinubu Fires Atiku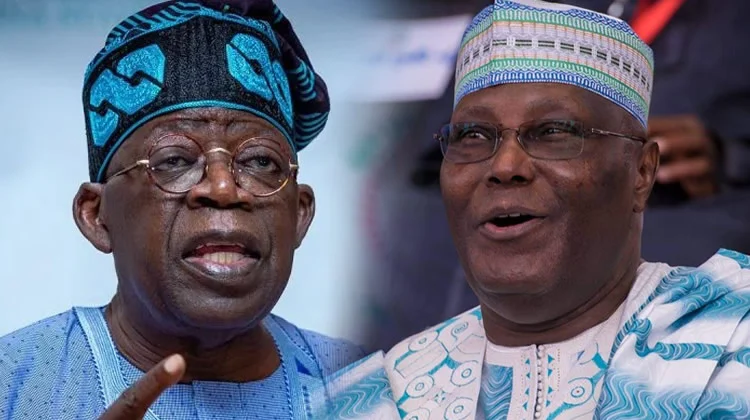 ….Your Continuous Gaffes, Miscues Are Effects Of Your Failing Health, Ex VP Replies Asiwaju

The presidential candidate of the All Progressives Congress (APC), Bola Ahmed Tinubu, has claimed he "rescued" the flagbearer of the Peoples Democratic Party (PDP), Atiku Abubakar from former President Olusegun Obasanjo.

Abubakar, who served as vice-president under Obasanjo, had a running battle with his former principal for years.

Both men reconciled ahead of the 2019 general election.

However, Obasanjo has since thrown his weight behind Peter Obi of the Labour Party (LP) for this year's poll.

Speaking on Monday during a campaign rally in Uyo, the capital of Akwa Ibom, Tinubu said: "I am the one that rescued him from Obasanjo who wanted to roast him like goat meat.

"He ran away to Dubai, and when the election came again, he (Atiku) came for stomach infrastructure. We rehabilitated him in Lagos and gave him a ticket but he wasted it and used it to collect money.

"He faced Obasanjo, faced Buhari and failed. He failed with Jonathan. He failed in all his subjects."

Meanwhile, the camp of former Vice President, Atiku Abubakar said the "constant gaffes" of All Progressives Congress, APC, presidential candidate Bola Tinubu were embarrassing.

Tinubu has made over 20 gaffes publicly since he declared his intention to contest, Atiku's special assistant on public communication Phrank Shaibu indicated on Monday.

A statement he signed said in Tinubu's rally in Akwa Ibom, the APC flagbearer goofed about making Atiku a Senate President though his opponent never contested any legislative election.

Shaibu noted that the former Lagos governor's gaffes and miscues are "effects of his failing health" which present danger to national security.

The aide recalled Tinubu's comment on recruitment of 50 million youths into the Army to solve the unemployment problem, advice to Nigerians to renew their Permanent Voter Cards (PVCs) before they expire, among others.
1,618 total views, 1,234 views today