2023: Corrupt Practices Have Crippled Nigeria's Growth For Too Long, Peter Obi Fumes
Presidential Candidate of the Labour Party, Mr Peter Obi has said that if elected in 2023 his administration will have and show zero-tolerance for corruption, noting that corrupt practices have crippled Nigeria's growth for too long.

In a brief statement on Monday, Mr Obi said allowing corruption to deprive Nigerians of the dividends of democracy will not be accepted.

"We will have zero tolerance for corruption; block leakages and cut the cost of governance. Our total commitment to transparency and accountability in government business is the only credible way to achieve limited to zero corruption.

"The burden of endemic corruption is borne by the citizens; they are denied the high living standards which the wealth of their country should have given them through the provision of public infrastructure and services.

"To have corruption eat so deeply into the fabric of our public life, such that over 80% of our common wealth is devoured by a small minority, while most of our people are left to scrounge and scavenge for a living is totally unacceptable," Mr Obi asserted.

In an earlier statement on Sunday, the former Anambra State governor said Nigeria at the moment is in dire need of a leadership that will transform the nation.

According to Mr Obi, this is the exact kind of leadership that he and his running mate – Senator Yusuf Datti Baba-Ahmed, will avail Nigerians if elected in the forthcoming election.

"Nigeria is badly in need of a reformative leadership. Bad leadership has hurt us deeply, damaged our psyche and diminished our potentials and dreams.

"Ultimately, the overall goal of the Obi-Datti administration will be to streamline governance, make it more responsive, transformative, effective, less transactional and therefore, efficient and cost-effective," Obi stated.

In his opinion, the desire to take Nigeria back is nearly unanimous.

"We may be used to the old order; but we cannot vote for continuity of corruption, recklessness, impunity and poverty. Deprivation is not habit forming. Nigerians desire a better life.

"We can no longer gamble with our fate and future. I'm running for president because, I am qualified, I have the capacity, credibility, commitment, stamina, governance experience, and track record. More importantly, Nigerians can trust me.

"There is Nigeria; But there are no Nigerians. Currently, Nigeria works for a small minority of people; Nigeria must work for ALL Nigerians".

Mr Obi further asserted that Nigerians must be able to dwell securely and in safety wherever they live, adding that this is the first duty of government.

"This makes security a top priority for me," he buttressed.

"I Am Getting Better And I Feel Better" Jayboogie Gives Update On Health Post BBL surgery
Popular Nigerian personality Jayboogie has recently addressed the serious accusations of scamming Nigerians.

These allegations centered around Jayboogie's health issues and the supposed need for a kidney transplant following complications from a BBL surgery.

In a candid statement on social media, Jayboogie set the record straight. He explained that he never claimed he needed a kidney transplant. The rumors, he says, were not started by him. His real ordeal began with an injury to his kidney, which was a consequence of the BVL surgery. To lend credence to his story, he shared images of himself both in the surgical room and during his painful recovery.


Jayboogie recounted the harrowing experience of not being able to urinate for 12 hours post-surgery, which led to panic and an urgent referral to Lagoon Hospital on October 31, 2023. Despite undergoing a plasma exchange in an attempt to resolve the issue, his condition did not improve.

The situation was further aggravated by intense media scrutiny, prompting Zenith Hospital, where he was admitted, to discharge him and advise dialysis from home. Jayboogie highlighted the mental toll the controversy and public backlash took on him, including receiving death threats. This led him to take a break from social media and limit communication for his mental health, supported by his family's decision to ensure his privacy.

In his statement, Jayboogie categorically denied allegations of scamming the public. He affirmed that he did suffer from sepsis and acute kidney injury, which necessitated a period of dialysis. However, he joyfully shared that as of November 28, he was discharged and is currently recuperating. He is still under medication but is optimistic about his recovery.

Jayboogie concluded his statement by expressing his sincere gratitude to everyone who supported him financially and emotionally during this difficult time. His response to these allegations sheds light on the complexities faced by public figures when their personal struggles become intertwined with public perception and misinformation.

'Waste Of Resources Amid Hardship', Peter Obi Faults Number Of Nigerian Delegates At COP28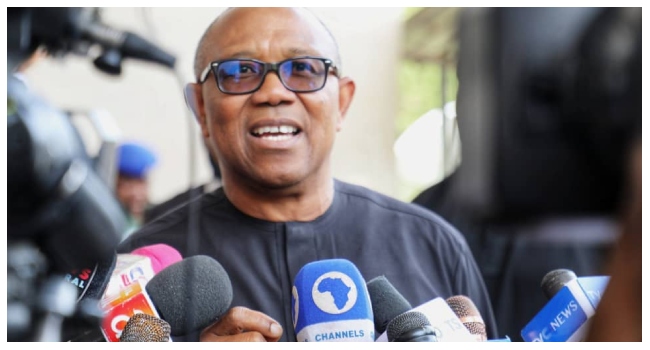 The 2023 presidential candidate of the Labour Party (LP), Peter Obi, on Sunday, faulted the number of Nigeria's delegation at the COP28 Climate Summit in Dubai, the United Arab Emirates (UAE).

President Bola Tinubu had on November 29, 2023 departed Abuja for Dubai for the summit expected to end December 12, 2023.

In a post on X (formerly Twitter), the ex-governor of Anambra State, described sending over 1,000 persons to the summit as a waste of scarce resources by the Tinubu administration.

Obi lamented the "huge contingent" in Dubai at public expense at a time when most Nigerians can hardly afford food and basic needs.

"Nigeria's contingent to COP28 totaled 1411, the same number as the Chinese contingents. While China's budget for 2024 is about $4 trillion, about $2,860 per head; Nigeria's budget is about $33 billion, about $165 per head," Obi said.

"Nigeria has more people living in 'Multi-Dimensional' poverty than China, despite China having seven times our population."

Obi said majority of those in the Nigerian delegation to COP28 are either non-relevant civil servants or relations of high government officials.

"This huge contingent is out at public expense at a time when most Nigerians can hardly afford food and basic needs as a result of economic hardship.

"As we have kept emphasizing, we must stop waste as a a tradition of our government and nation. We urgently need to cut the cost of governance and invest in production.

"We need to de-emphasize unnecessary ceremony and showmanship as a mode of government behaviour. We need to tie spending to necessity and national Priority. A New Nigeria is possible. We only need to do the reasonable and the necessary."

Meanwhile, a presidential aide, Temitope Ajayi, in a comment on Sunday, defended the delegation of the President to the summit, saying that "President Tinubu and other officials on the Federal government delegation are in Dubai for serious business not jamboree".

COP28 Delegates: Analyst Doubts FG's 'Compassion' For Suffering Masses
A Professor of Political Science, Jideofor Adibe, has knocked the Federal Government over its "bloated" number of delegates at the COP28 Climate Summit in Dubai, the United Arab Emirates (UAE).

Adibe, who spoke on Channels Television's Sunday Politics, said, with about 1,000 delegates sponsored by the government to the two-week summit, the compassion of the President Bola Tinubu administration to the hardship faced by Nigerians was doubtful.

The President had on November 29, 2023 departed Abuja for Dubai for the summit expected to end on December 12, 2023.

Controversy has since surrounded the number of Nigerian delegates at the summit which ranked that of China, with many Nigerians on social media berating the government for being "insensitive" to their economic sufferings occasioned by the removal of petrol subsidy mid-2023.

Adibe lamented that with the harsh economy, the Tinubu administration should lead by example and cut cost of governance.

He said, "Amid the binge on loans and borrowings, and the increasing hardship and increasing emigration of Nigerians, these things happening, is not just that it raises the question about fidelity to cutting down the cost of governance, but also the question of whether there is even compassion for suffering Nigerians because if there is compassion for what is going on in the country at the moment, people (government officials) should also be sensitive to the optics about the whole thing."

The analyst said not just costs of flights of the officials in Dubai were funded by the government but their "Estacodes of about $900" daily and hotel costs for about two weeks of the summit.

The professor said the size of the President's delegation should be on specific roles and it should not be more than three ministers.

He urged the President to set the tone that his administration abhors waste by sanctioning officials responsible for the large delegation in Dubai.