2023: Kwankwaso Didn't Betray Shekarau, NNPP Spokesman Clears Air
…Says Ex-Kano Gov Will Never Form Alliance With Tinubu
Ladipo Johnson, a spokesman for the Presidential Campaign of the New Nigeria Peoples Party, says the party's presidential candidate, Rabiu Kwankwaso, did not betray the Senator representing Kano Central, Ibrahim Shekarau, who left the NNPP for the Peoples Democratic Party on Monday after he joined Kwankwaso's camp in May.
Johnson spoke in Lagos on Tuesday when he was featured as a guest on Channels Television's breakfast show, Sunrise Daily.
Speaking on the rift between Kwankwaso and Shekarau, Johnson said the latter demanded certain NNPP elective slots in the Kano State House of Assembly and the Federal House of Representatives but couldn't get it because tickets had been sold and primary elections conducted to fill such nominations.

The Kwankwaso's presidential campaign spokesman said, "I will just give a brief background. When Shekarau was pushed out by the APC, the Court of Appeal said the structure belongs to (Governor Abdullahi) Ganduje. People reached out to or I think he reached out.

"When they (Kwankwaso and Shekarau) were coming together, there was an agreement and we both travelled to Kano from Abuja to announce everything.

"Apparently, tickets have been bought and everything and the distinguished senator pulled out. Next thing, Ganduje was in his (Shekarau's) house. I think a day or a few days after, Asiwaju Tinubu sent him a jet and he was in Lagos as well.

"He came in and he had some members in this house who were easily accommodated but the problem I think was that he demanded about 31 seats in the House of Assembly out of about 40 and some seats in the House of Reps and he was told that people had bought their forms and things like that."

"I will not say that he (Kwankwaso) made a promise that he didn't keep," Johnson said, stressing that his principal did not breach trust.
When asked to respond to reports that Kwankwaso was working for Tinubu, Johnson said, "He is not working for Tinubu. Senator Kwankwaso is much more qualified for the post; he is not working for Tinubu."
597 total views, 3 views today
'How Fake Zenith Bank Agent Stole N141,000 From My Account', Hairstylist Narrates
Mary Ajah, a hairstylist in Osun State, has narrated how a fraudster posing as a Zenith Bank representative defrauded her of N141,000.
The hairstylist said the scammer succeeded in his scheme because she was desperate to resolve a problem she had with her current bank account.
She said she chatted with the bank to find out what she could do to receive alerts via text messages and her email address but she was told to reach out to them via their social media handles or email addresses as they were not receiving calls at the time.
According to Ajah, this problem of not receiving notifications from her account had been going on since October, immediately after creating a current bank account.
"I sent an email to Zenith Bank, but they didn't respond on time, so I chatted with them via Twitter. I got a number from the Twitter account and was asked to chat with them on WhatsApp," Ajah said.
"I didn't realise on time that the number I received was from an impostor. While we were chatting, the scammer said he wanted to help me link up my savings account to my current account so I could start getting notifications.
"Then I got a number from Twitter to chat with on WhatsApp, but I didn't realise that it wasn't their number.
"He requested my card details, which I gave him. But immediately after that, I noticed that they withdrew N141,000. It was then that I had to tell my account officer what had happened."
Ajah stated that she reached out to the bank after the ugly incident occurred but nothing could be done to salvage the situation.
Credit: fijn
2,028 total views, 2,028 views today
BBTitans: HoH Blue Aiva And Partner Save Yemi's Pair As Khosi, Miracle, 7 Others Face Possible Eviction
Housemates in the Big Brother Titans reality show have nominated each other for possible eviction on Sunday.

Recall that Blue Aiva and Kanaga Jnr emerged Head of House on Monday night.

This followed the eviction of Sandra and Theo during the live show on Sunday.

At the end of the nomination process on Monday, BlaqLeng, KhosiCle, ThabaNa, YeLisa and JayKay.

However the HOH, KanAiva saved Yelisa and replaced with MaYa.

Here is how housemates nominated:

YeLisa- JayKay and BlaqLeng

JayKay- JenniLi and ThabaNa

Royals -KhosiCle and ThabaNa

KhosiCle -Royals and BlaqLeng

JuVonne – KhosiCle and BlaqLeng

JenniLi -YeLisa and KhosiCle

JuOvla -BlaqLeng and ThabaNa

BlaqLeng -KhosiCle and JuVonne

MaYa -ThabaNa and BlaqLeng

ThabaNa -JayKay and YeLisa

KanAiva -JayKay and KhosiCle
2,154 total views, 1,749 views today
2023: I Rescued You From Obasanjo's Onslaught, Tinubu Fires Atiku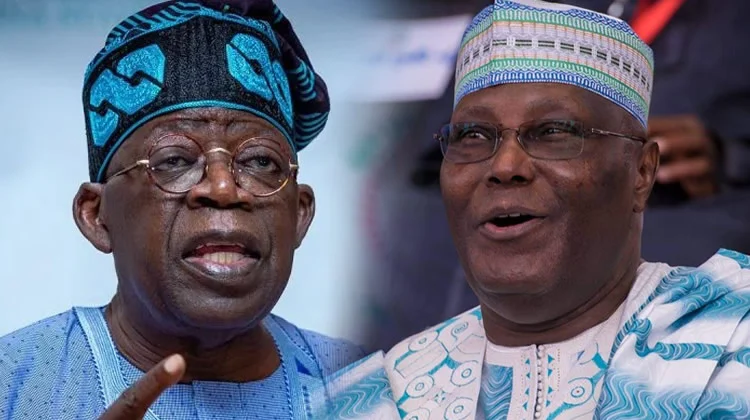 ….Your Continuous Gaffes, Miscues Are Effects Of Your Failing Health, Ex VP Replies Asiwaju

The presidential candidate of the All Progressives Congress (APC), Bola Ahmed Tinubu, has claimed he "rescued" the flagbearer of the Peoples Democratic Party (PDP), Atiku Abubakar from former President Olusegun Obasanjo.

Abubakar, who served as vice-president under Obasanjo, had a running battle with his former principal for years.

Both men reconciled ahead of the 2019 general election.

However, Obasanjo has since thrown his weight behind Peter Obi of the Labour Party (LP) for this year's poll.

Speaking on Monday during a campaign rally in Uyo, the capital of Akwa Ibom, Tinubu said: "I am the one that rescued him from Obasanjo who wanted to roast him like goat meat.

"He ran away to Dubai, and when the election came again, he (Atiku) came for stomach infrastructure. We rehabilitated him in Lagos and gave him a ticket but he wasted it and used it to collect money.

"He faced Obasanjo, faced Buhari and failed. He failed with Jonathan. He failed in all his subjects."

Meanwhile, the camp of former Vice President, Atiku Abubakar said the "constant gaffes" of All Progressives Congress, APC, presidential candidate Bola Tinubu were embarrassing.

Tinubu has made over 20 gaffes publicly since he declared his intention to contest, Atiku's special assistant on public communication Phrank Shaibu indicated on Monday.

A statement he signed said in Tinubu's rally in Akwa Ibom, the APC flagbearer goofed about making Atiku a Senate President though his opponent never contested any legislative election.

Shaibu noted that the former Lagos governor's gaffes and miscues are "effects of his failing health" which present danger to national security.

The aide recalled Tinubu's comment on recruitment of 50 million youths into the Army to solve the unemployment problem, advice to Nigerians to renew their Permanent Voter Cards (PVCs) before they expire, among others.
1,554 total views, 1,170 views today